Break out the big hair and Cyndi Lauper records, because the 1980s is rolling through Olympia with Broadway Olympia Production's version of The Wedding Singer. The show opens Valentine's Day weekend and serves as a fitting homage to romance, romantic comedies and the best of the 1980s. The cast have formed a bond throughout rehearsals and are enthusiastic to offer a unique musical theater experience to their audience.
Based on the 1998 movie starring Adam Sandler and Drew Barrymore, the musical is set in 1985. Robbie Hart's rock 'n' roll dreams haven't been realized, but he remains New Jersey's pre-eminent wedding singer. He is a hopeless romantic who becomes just hopeless after he is left at the alter by his fiancée. As waitress Julia enters his life, Robbie learns he can love again. Just one little problem—Julia is engaged to a Wall Street swindler and it is up to Robbie and his musical prowess to win Julia's affection before her trip down the aisle.
The musical retains the original charm of the film, while injecting a nostalgic twist onstage. Original music abounds to accompany songs from the movie like "I Want to Grow Old with You." The show also incorporates new tunes reminiscent of 80's favorites like Rick Astley and Cyndi Lauper. "It's a story with a lot of heart," says Jake Atwood who plays protagonist, Robbie Hart. "It's a story with some back bone, for a change. A lot of movie adaption-based musicals, they tend to be a little flimsy, but personally I feel it's the same heartfelt, hopeless romantic storyline with a little bit more of a punch. It's original music in combination with Adam Sandler's self-written music."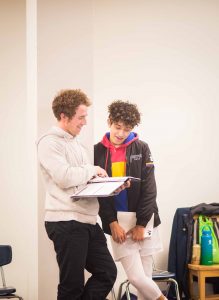 There is a great amount of detail in the set of the musical, with the aim of transporting the audience into a different time. "It's all very 80s," explains Director and Scenic Designer, Blake York. "There's a lot of 1980s references and music that feels very 80s. The set design feels like the laser shows the big hair bands had in the 80s. Diagonal bright lines. When you walk in, it innately just says 80s. It doesn't take itself seriously and it's just a good time."
As rehearsals progress, the actors are striving to honor the show's source material while still adding their own identity to their roles. "My favorite part so far, is trying to make the role my own," explains Brittany Griffins, who plays the role of Julia Sullivan. "Because it's a role played by Drew Barrymore in the movie and it's so iconic. Trying to make it your own, while also having those features. It's challenging in that way, but also fun."
Although the cast promises corny jokes and a script bursting with 80's references, there is also a meaningful story at the core, relating to the love, heartbreak and friendship of the main character, Robbie. "It's a heartwarming story," explains Atwood. "We've all been in Robbie's place before. It's a story of love and a story of loss. It's a story of coming of age, realizing a lot of work goes into loving another person and that we can find the fallacies and the humor and the light. I just highly encourage, if anybody likes musicals, movies, romantic comedies, it's got it all."
The musical coincides perfectly with the holiday of love, Valentine's Day, as that is the show's opening night. "I think if you want to time travel back, it's the perfect time," says David Maldonado, who plays the keyboardist, George. "It's going to be during Valentine's Day weekend, it's kind of cheesy, but it's The Wedding Singer! I feel like if you want your heart to be moved, especially since it has really cool music, I think it will be something really fun to experience. A lot of people don't do The Wedding Singer. Everyone knows the movie, but you won't be able to see anything else like this for a while, especially with a good cast like this one is. Instead of acting, it feels like I'm in the party."
Because of the show's aesthetic and musical nature, the cast is excited to be filling a gap in the Olympia performing arts scene. "It's a really professional production and everyone is really high energy," says Brett Hartman who plays Robbie's best friend, Sammy. "The production team is first class. It's a great local event for Olympia. It's wonderful to have something like this in the city. Something's not necessarily missing, because there are other theater opportunities, but this style of musical really hasn't been here for a number of years. So, it's great to have it back in the community and it's also a wonderfully talented production."
Broadway Olympia's version of The Wedding Singer opens at 8:00 p.m. at the Capitol Theater on February 14. The show runs until February 17. More information about the show can be found on Broadway Olympia's website. Tickets can be purchased on the Capitol Theater's website.
Sponsored