Valentine's Day, that crazy midwinter love-fest, is back. Time to start planning treats for your special someone. Whether that means a spouse or family member, partner, or self-pampering me time, let Little Creek Casino Resort in Shelton help spice things up this holiday.
Beyond roses and candy hearts, some of us go a little crazy on Valentine's. USA Today reports that in 2018, "Total spending will hit $19.6 billion…a dramatic increase from the $18.2 billion spent last year. The 2018 number, however, won't quite break the record of $19.7 billion set in 2016, when the average was $146.84 [for participating Americans], for a $19.7 billion total."
Those totals include buying jewelry, flowers, clothing, gift certificates, event tickets, greeting cards, candy, and evenings out on the town. At Little Creek, you can combine all that and more thanks to their dining, gaming, resort, and event opportunities.
This year Valentine's Day falls on a Thursday. If you can't splurge on a mid-week getaway, consider heading over for a fun escape. In the Starlight Lounge, every Thursday is Tribute Night featuring Neil Diamond Tribute band, Cherry Cherry. In January alone, they hosted tributes to Tom Petty, Motley Crue, Nirvana, Sammy Hagar, and ever popular 80s hair metal.
Rock your socks off then head to Asian Night at the Creekside Buffet from 4:30 p.m. to 9:00 p.m. Dishes and specialties intermingle with buffet classics for less than $18 per person all evening long. Over at the Island Grille enjoy a half rack of smoky, saucy ribs with seasonal veggies for only $9.99 on Thursdays with your Players Club card. This offer runs from 11:00 a.m. until 10:00 p.m. (February special is a 20-ounce T-Bone steak with seasonal veggies for $12.99)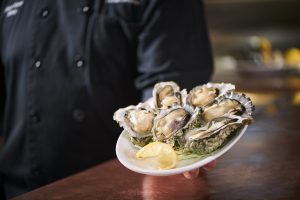 Early risers can have breakfast for $5.99 Thursdays and Fridays at the Creekside Buffet. This Players Club member's special is available from 8:00 a.m. to 11:00 a.m.
On the casino floor, look for daily promotions and gaming specials galore. Sign up in advance for your Players Club card enjoy benefits like check cashing, promotional entries, event pre-sale, valet parking, and other exciting goodies.
But let's face it, Valentine's Day is for romance. And the Little Creek Romance Package is truly decadent. Book using code PKGROM to receive overnight resort stay, Sunday through Thursday, game play in the casino, two access passes and $110 in credit at the Seven Inlets Spa, fuzzy bathrobes, sparkling wine in your room, and a 2:00 p.m. late departure time.
Book spa treatments in advance to guarantee the best times. That way your Berries and Bubbly Pedicure or Eminence Illuminating Facial Treatment can ease away the stress of post-holiday blues and blahs. Find monthly specials, descriptions, and pricing on the Seven Inlets homepage then sign up for their newsletter full of coupons and updates. The spa is open seven days a week and can be reached directly by calling 360-462-1772.
Is your sweetie not the spa type? Book a Stay and Play package (code GOLF) with resort stay, 18-hole round of golf, $10 in freeplay, bag of golf balls, and use of a cart. Or compromise on the Stay, Spa and Swing package (code SPA), which includes all of the above as well as a 50 minute classic Swedish massage.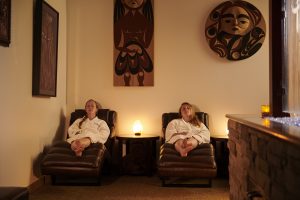 Can't find an overnight babysitter? Bring the whole family and celebrate with the Family Fun Package (code FAMILY). This includes your stay, $10 freeplay, two 2-hour passes to the arcade, and large pizza to share.
Experiences make the best gifts and Little Creek hosts some of the best. Keep an eye on their frequently updated events page for concerts, parties, bands, gift shows, and performers. Consider hosting your wedding, party, event, or conference there as well by calling 360-462-3463.
When polled, 53 percent of people agreed that "You don't need a specific day to show each other that you love each other" and 36 percent say "Valentine's Day is the day of love…a day that I want to spend with my partner." Whether you use it as a champagne-fueled celebration or simple reminder to smooch your sweetie and stock up on chocolate, it's going to be here before we know it. Call Little Creek at 800-667-7711 and make a little midwinter magic.
Sponsored