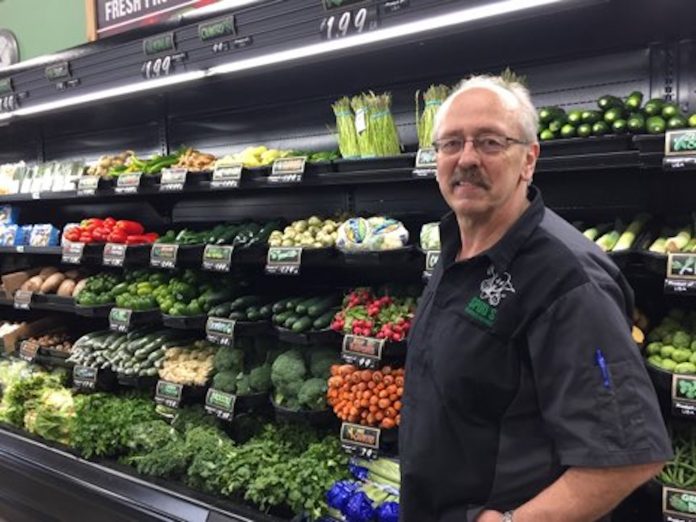 The team at Spud's Produce Market, the neighborhood grocery store located in the Wildwood plaza in Olympia, spent the last few months of 2018 preparing for the opening of their second location. After an anticipated wait, on December 12, Spud's Produce Market II, located on the corner of 79th Avenue and Old Highway 99 in Tumwater, opened for business. Dave Jekel, the co-owner of Spud's Produce Market, reflects on opening day with an easy smile. "It was really good," he shares. "Our first week was crazy, then eventually it leveled off, but business has remained strong. We are pleased, considering a lot of people still don't know we are here."
With a new location comes a flux of new customers. "In the evenings we get a lot of people who live in the neighborhood coming in and people on their way home from work," shares Jekel. "During the day we are seeing a lot of the state offices coming in for lunch, while the warehouse people will come in the morning." The team at Spud's Produce Market II is prioritizing getting to know their new customers.
"We saved a four-foot section in our grocery department just for special items that people ask for," explains Jekel. "We purposely saved space for this because we knew it was going to happen, we just didn't know what it was going to be." Jekel adds that the first month of business was spent figuring out exactly what the new Market needs to carry in order to best serve their customers.  "We are starting to get an idea of what that is and plan to keep adding items to fill the needs."
While the mission to provide high quality products at an affordable price, and connect with, listen to and serve their customers while working with other small businesses is unanimous among both stores, there are a few differences.
One of the major additions to the Tumwater location that will you not see at the Wildwood market is a selection of grab-and-go lunch items. Spud's Produce Market II is next door to the Attorney General's office, down the road from multiple state buildings and near the Alaffia warehouse. Because of their close proximity to multiple work spaces, the crew at Spud's Produce Market II are catering to the folks looking for a quick lunch. "We have sandwiches and salads from The Bread Peddler, which have just taken off!" exclaims Jekel. The grab-and-go items are freshly made and delivered each day, ensuring the highest quality for their customers.
Another exciting addition to Spuds Produce Market II are eight rotating tap handles for filling up growlers. Grant Caldwell, a longtime employee of Spud's Produce Market and the store manager at the new location, is mastering the science of filling up growlers and enjoying talking to customers about the wide varieties of beer. "Just like the grocery department, we are growing the beer and wine department based on customer demand," explains Caldwell. "There have been requests for fizzy wine and a pretty high demand for a lot of local breweries, like Headless Mumby and Triceratops," shares Caldwell.  "At different bars you'll see the same tap handle there, we don't have that. Once the keg blows that handles gone and the next brewery is up!"
The produce department at the new location is similar to that at the first store, but still there are subtle differences. "The packaged salad mixes, like the Organic Girl, are selling a lot," shares produce manager Dave Crover. He laughs as he remembers coming in one morning only to see that the salads he stocked the night before were basically gone. Crover shares that he is looking forward to the nicer weather so that he can roll up the garage-like doors out front and began displaying the produce outside.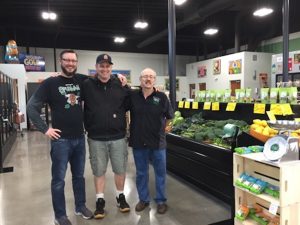 Spud's Produce Market II is planning on adding bulk coffee bins, maintaining their selection of grab-and-go lunch items, carrying a wider selection of bread from various bakeries and has started a partnership with Olympia Seafood Company. The team's dedication to crafting a market based on the needs of their customers earned them the nickname of the "neighborhood pantry" at their Wildwood location. One I believe will be carried over to their Tumwater store. One customer shared with Jekel that she didn't realize how much she needed Spud's Produce Market until they were there, a feeling I'm sure is shared among many.
Spud's Produce Market
2828 Capitol Blvd S, Olympia
Monday – Sunday: 9:00 a.m. – 7:00 p.m.
360-915-9763
Spud's Produce Market II
804 79th Ave SE, Tumwater
Monday – Sunday: 8:00 a.m. – 7:00 p.m.
360-764-8915
Sponsored