The smell of leather. Few people understand how wonderful that smell is, unless you are an equestrian. Opening the door to the Tack Room Too in Olympia is paradise for any rider – the leather, brightly colored halters, trendy riding gear and tack for all disciplines beckons you to come in and shop. In May 2018 Tack Room Too changed leads, as Dan and Carol Rees retired and Tim and Tracie O'Brien took the reins. But you may not have noticed the flying change, as the O'Briens are keen on traveling down the same trail the store always has, and that's a commitment to keeping the community riding by giving back.
Deep Community Ties
Tracie is a homegrown local, having graduated from both Capital High School and The Evergreen State College with a degree in wildlife biology. She met Tim while they were both studying at Oregon State University from 1995 – 1997. There, Tracie received her master's in wildlife biology while Tim received his in horticulture. "We lived and worked in Olympia after graduate school and started our family here in 2006," Tim shares. "We did move from Olympia to Bainbridge Island from 2008 through 2014, but came back to Olympia in March 2014 after we purchased our horse farm, as we wanted to raise our children near Tracie's parents and our extended family as well."
Purchasing the farm fulfilled a life long dream of Tracie's – to own her own riding school. Like many of us, Tracie grew up horse crazy and did everything she could to keep horses in her life, despite pursing an education. "During high school and college, she worked hard mucking stalls and doing whatever odd chores other barn owners needed in order to earn access to horses for riding, training, competing, lessons, etc.," Tim explains. "She continued her passion for horses through our young adult life by working with various barns and trainers to hone her skills and teach lessons to beginning horse riding students." Keev Farm, located in the Boston Harbor area of Olympia, offers riding lessons to youth as well as camps.
In addition, Tracie and Tim have three daughters, Aidan (12-years-old), Maiti (10-years-old), and Rory (8-years-old). "All three are accomplished English and Western horse riders," says Tim, "and they are involved in the day to day operations of our horse farm."
Changing Disciplines: Farm Owner to Tack Store Operator
So why would a couple busy running a riding school decide to take on a tack store too? Tack Room Too has been a staple for Thurston County and the surrounding area since 1987. "Tack Room Too was founded by Dan and Carol Rees, and has a reputation of quality tack and apparel at fair prices," Tim shares. "We are strong believers in independent, locally owned businesses and their roles in their communities."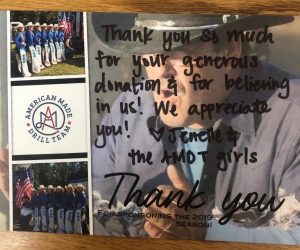 The O'Brien's had a longtime goal of owning and operating a local business. "We had been looking at other business opportunities, and when this opportunity arose, we knew it was a perfect fit for our family, lifestyle, and personal goals," Tim shares.
Along with tack, the store also has a well-known journeymen leather-smith Dave Lostrom, who I personally have used to alter tack. He also builds custom saddles. Dave will continue to serve the area at Tack Room Too and we are lucky to have him.
Keeping a Legacy Cantering Along
Aside from offering quality products and great services, The Rees' were dedicated to giving back to the community. From supporting local 4-H and High School Equestrian Teams, to sponsoring open and schooling shows, Tack Room Too is a familiar name to anyone who rides.
"We are honored to continue the legacy that Dan and Carol built," Tim and Tracie share. "They are wonderful people, remain our friends to this day, and they had set a standard of giving back through supporting the surrounding equestrian clubs, teams, competitions, events, and associations. We continue that through today."
"Dan and Carol, along with Tracie and I, believe that local businesses play an important role in strengthening the social and economic 'fabrics' that make communities thrive," Tim continues. "We understand the power of circulating dollars locally and how that maximizes the impact those dollars can have on the people that work and live here."
Support has come in a variety of ways, including cash and product sponsorships depending on their needs. Each year, the owners of Tack Room Too support more than 25 clubs and organizations in the area. It's important to them, because it's important to the customers that walk through the doors, many of them generational patrons. "We have multiple generations of loyal customers that shop at Tack Room Too and we plan to continue it that way," Tim shares. "Both sets of owners, past and present, want Tack Room Too to play a central role in doing that in the equestrian community. Supporting our equestrian youth, the clubs, competitions, and associations is a powerful way to do that."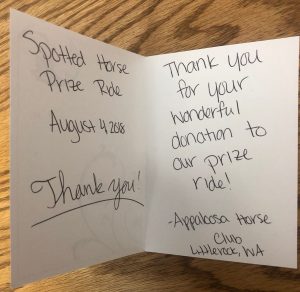 The O'Briens are excited about being an even bigger part of the equestrian community. "We love the relationships that we've taken over as well as newly built by being the owners of the store," they share. "Our staff, customers, vendors, and suppliers are all part of a big new family that we're thrilled to be a part of!"
To learn more, visit the Tack Room Too website or follow them on Facebook to learn about exciting new product lines, sales and more. While new owners always mean changes, for Tack Room Too, the most important part, it's heart for the community, remains a steady cantering beat that can be felt by all.