You started a business, congratulations! Doors are open, your customers are happy, and the daily grind is a little less scary…now what? Catch your breath, pat yourself on the back, and then head over to the Thurston Economic Development Council  (EDC) for phase two. It's time to ScaleUp.
The EDC is an invaluable resource for local business owners. Their mission is "To create a dynamic and sustainable economy that supports the values of the people who live and work in Thurston County" through "three main principles: recruit, retain, and expand."
Through the EDC's Center for Business & Innovation (CB&I), they offer education, training, networking, and continuing education to regional businesses large and small. ScaleUp Thurston is just one of these many opportunities. A 12-week series for established companies, ideally those in business for two or more years, ScaleUp helps them build and grow.
All too often "people are working in their business, but not on it," says Celia Nightingale, director of the CB&I. "It's not uncommon for a business to miss its goals or to plateau, and the business owner is often too busy to step back and assess why."
"There's often a vision and plan in place prior to business start-up, but once launched, business owners are immersed in day-to-day operations that more than consume their attention. They have more knowledge of the reality of their market, employees, social media and how the region reacts, but don't have the time to adjust their vision, lay a solid path for growth and implement it."
ScaleUp was started in 2016 thanks to a grant from the U.S. Small Business Administration who paid the program's initial costs. Thurston County was lucky enough to be one of only 15 locations nationwide. Under SBA requirements, there were cohorts of business owners participating in 2016 and 2017, but specifications changed with the new presidency.
In 2018, the SBA stepped back but the CB&I continued forward, having "found the program highly valued and highly impactful," says Nightingale. They decided to keep things running but break content up into three blocks of classes for future cohorts. These segments, which can be taken individually or as a group, are Business TuneUp, Build Your Market, and Financial Mastery.
However your company finds its footing, it's important to "look at what you have done and how you can improve upon it," stresses Nightingale. Business TuneUp focuses on "building your business to reach the vision you have in mind." It looks at developing systems and processes, as well as staffing and employees, creating a business that's fully sustainable and efficient.
Build Your Market addresses new market opportunities, sales, promotions, and how to determine what your message is and what works for you. Financial Mastery is just what it seems. It's learning how to untangle reports, conquer financial tools, and master actionable information as well as planning for growth or tight times.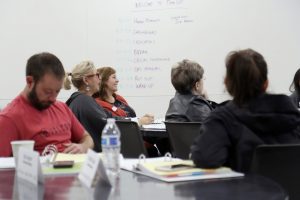 In 2019 the EDC hopes to add continuation classes for businesses who've participated in ScaleUp in the past. "In addition to skill-building, tips and tools, one of the greatest benefits ScaleUp provides is the peer experience; business owners learn a lot from each other and value opportunities for shared problem solving," says Nightingale.
Classes take place on 12 half-days from 8:30 a.m. until 12:00 p.m. The next series begins on January 17, 2019 with an enrollment cut-off of January 11. Since ScaleUp began, more than 170 business owners have gone through the program and offer rave reviews.
One grateful participant is Stuart Drebick of Adroit Contractors. He joined ScaleUp to grow the company and because "creating systems allows others to do the busy work and allows time to run the company." Drebick is a big fan of the EDC whom he's known about "for many years" and recommends ScaleUp. "Absolutely, it is a big investment in time but well worth it."
Owning your own business is a bittersweet mix of blood, sweat, tears and love. Don't go it alone, let the experienced professionals at the Thurston EDC give you a helping hand. Their legacy is to insure that your legacy thrives for years to come.
To learn more about ScaleUp, contact Celia Nightingale directly at 360-464-6045 or cnightingale@thurstonedc.com. You can apply to be part of the 2019 cohort online or by visiting the CB&I at 4220 6th Avenue South in Lacey.
Sponsored