Thomas Edison once said, "the three great essentials to achieve anything worthwhile are hard work, stick-to-itiveness, and common sense." For more almost five decades, John Drebick and his family have embodied Edison's words while making Olympia a better place to live, work, and shop.
According to the Harvard Business School, "family firms account for two thirds of all businesses around the world." Drebick, who moved into a two-bedroom home in 1957, entered into the real estate industry in title insurance and land surveying. In 1967, he added real estate sales to his resume.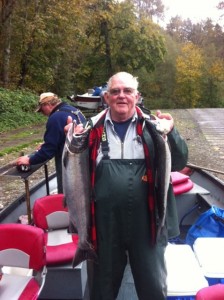 Four years later, he opened The Drebick Company in downtown Olympia specializing in residential properties. He then borrowed money from his parents to purchase his first office building for The Drebick Company. John and his wife, Glenda, handled residential sales, property management and commercial real estate brokering.
When times got tough in the 1980s, Glenda took investment services work with Shurgard Mini Storage. When the economy improved, she used her professional skills to join John as an owner of Drebick Investments, LLC. She is a long-time member of the Zonta Club of Olympia where she edits 'The Inkling,' their newsletter. John is a member of the Finance, Investment, and Youth Services committees for the Olympia Kiwanis and is quite active in the holiday poinsettia sale.
Leaving the residential real estate business in 1988, they focused exclusively on property management and operations of buildings they owned. From 1985-2000, Drebick Investments, LLC developed and built commercial buildings that were later leased to state agencies and private businesses. Of their four adult children, three are still local and son Stuart runs Adroit Contractors Inc. from an office he built and shares with his dad.
Their West Olympia location is dubbed, 'The Wedge,' which was created in 2012 near the courthouse campus on Evergreen Park Drive SW. Since settling in to these custom-built offices, John Drebick and his team have sold off their developed properties and invested in others across our region. Available space now includes the downtown Les Schwab location, which will be redeveloped, as well as four office buildings near The Wedge, which are Drebatized into "The Quad Office Park" and eight acres of light industrial land in Hawks Prairie.
Once a new property is acquired, it is 'Drebatized' for maximum appeal quality and value. This often includes updating paint, roof, and parking needs, adding natural stone to structure fronts and breezeways, and new landscaping throughout the area. This complete make-over updates older structures and vastly improves curb appeal. For leasing information on any of these established properties, contact Luke Kravitz of Kidder Mathews.
John laughs that the question he's asked the most is, "Why aren't you retired yet?" But why settle down to his fishing, vintage cars, and motor home travel when he's still "interested in continuing to own properties to Drebatize?"
His advice to property owners is simple: there is plenty of empty office space in Olympia, but the ones being leased are those being updated. Why let an outdated commercial building sit vacant when a round of Drebatizing can get it filled up and provide income?
"At the end of the day, I know who I am. I'm a real estate guy," says John. "Our door is always open." He encourages potential renters to contact him directly with development ideas for any of his holdings. By partnering with Stuart's commercial, retail, and industrial contracting business, they can turn something as common as a tire shop into the condo, boutique, or restaurant of your dreams.
Contact John and his team by visiting The Wedge at 1001 S. Evergreen Park Dr SW, calling 360-943-4340, or emailing jdrebick@comcast.net. With more than 50 years experience, he's capable, confident, and always has a story to share.