The kitchen at Bittersweet Chocolates is overflowing with freshly-made gourmet chocolate in a myriad of flavors. Co-owners Cindy Uhrich and Deb Smith have been adding a flair of French chocolate style to Olympia's downtown since 2016. They work to provide at least 24 different types of chocolate in their shop on any given day. As the holiday season approaches, Uhrich and Smith have been planning a festive selection of chocolates using ingredients evocative of the holiday season.
Bittersweet Chocolates focuses on producing quality, artisanal chocolate. Uhrich and Smith source many of their ingredients locally and all of their chocolate is made fresh in their downtown Olympia storefront. "I started doing chocolates about 20 years ago during Christmastime," says Deb Smith, co-owner of Bittersweet Chocolates. "When I started teaching a baking and pastry arts program, I decided that we needed to incorporate chocolate into it. In order to start teaching, I had to really learn chocolate. I started taking a few classes and then fell in love with it. So, I talked Cindy into opening this shop."
Opening Bittersweet proved to be a worthy move, as Uhrich and Smith currently provide a unique gourmet chocolate experience for the people of Olympia. "I love doing something different from what I have ever done before," says Uhrich. "My favorite part is creating and coming up with something new and different. The most awesome part is seeing people's faces when they put a piece of chocolate in their mouth for the first time and they go, 'whoa.'"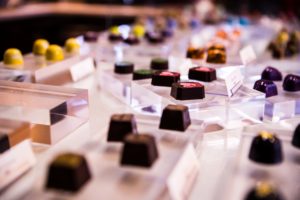 Over their two years of operation, the shop has developed a loyal and diverse clientele with repeat customers. Uhrich and Smith have worked to create a community within the walls of their storefront. "The same people come back over and over and it is all ages," says Smith. "The fun part is we will see young kids and then we will see someone who is 85. We have this couple that comes in once a month for their Valentine heart. Two years ago, we had a big Valentine heart box with 24 pieces and they bought one. And now every month they come back and refill it. It's funny, the box was falling apart and she rebuilt the box, so it has held up all this time. The couple split a piece chocolate every night."
Before Bittersweet opened, it took Uhrich and Smith months to develop the flavors that keep customers coming back. "It took about a year to come up with our 24 original," recounts Uhrich.
Seasonal Chocolates Celebrate the Holidays with Flavor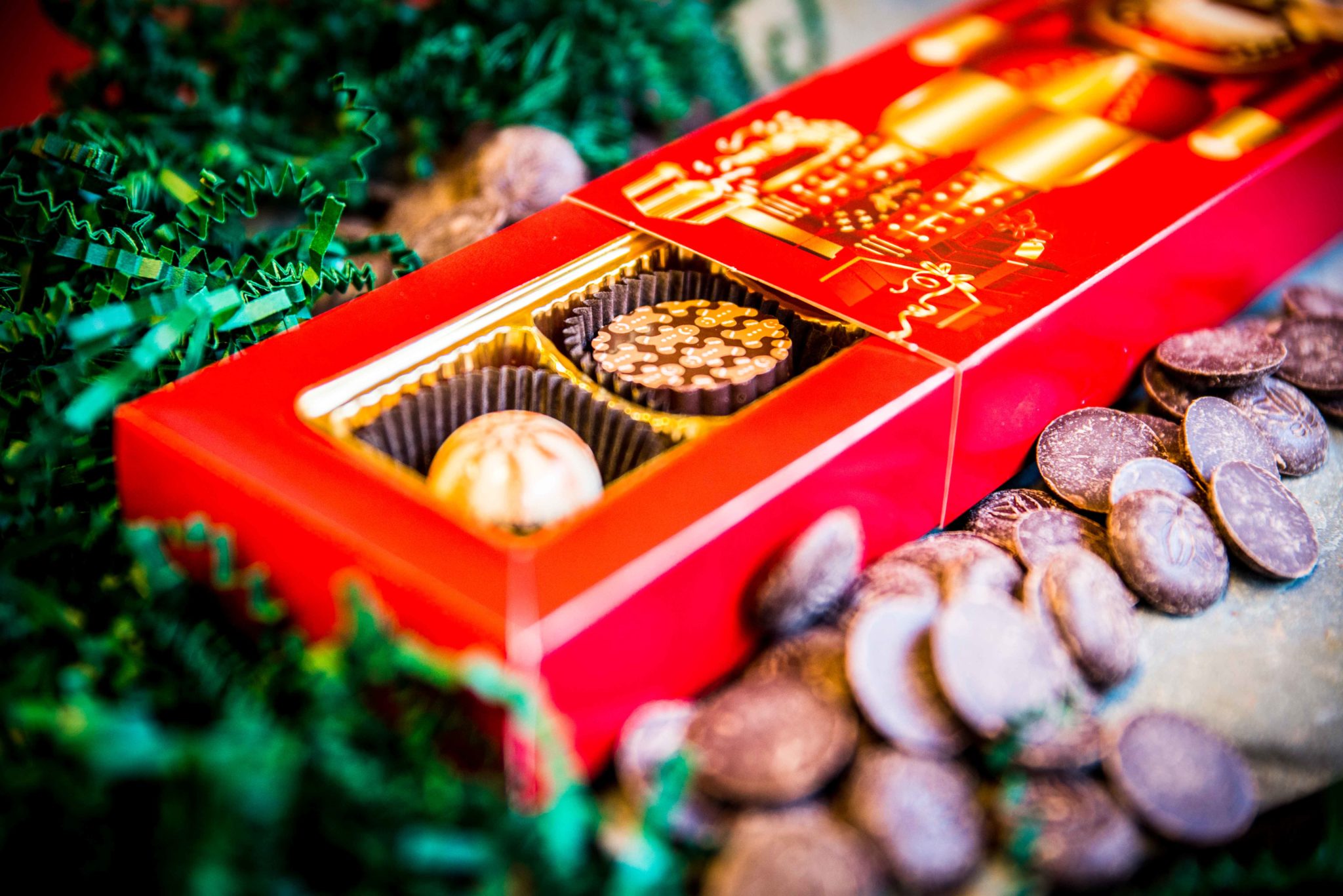 Now that the year-round flavors are well established, Uhrich and Smith are able to develop seasonal flavors. This year, Bittersweet is combining old favorites with a new variety of truffles to ring in the holiday season. "We are going to do five chocolates," says Smith. "We are going to do a crème brûlée, a peppermint schnapps, a cherry amaretto, a gingerbread and then a 49 percent milk chocolate for the kids. And those five will fit in our nutcracker boxes."
In addition to Bittersweet's special nutcracker-themed box, the shop will have a larger, 25-piece box in time for the holidays. As a gift idea, Bittersweet offers a wine and chocolate box complete with a custom selection of chocolates from the store paired with a bottle of wine, chosen by the customer. Bittersweet will also be taking advance orders after Thanksgiving and will expand their hours to accommodate holiday traffic.
Other varieties of chocolate that will be offered at Bittersweet this holiday season include chocolate pecan clusters, yule logs, chocolate bark and an Advent chocolate bar, Bittersweet's own rendition of the chocolate Advent calendar. "Starting after Thanksgiving, we are going to have our Advent bar," says Uhrich. "It is 24 little sections and they are decorated with little Christmas scenes. It is something where people can break a little bite off every day leading up to Christmas."
For any first-time visitors to the shop, Uhrich says to prepare for a whole new world of chocolate. "We have had a lot of people who have come in and never seen chocolate that looks like this," says Uhrich. "I would say approach this chocolate with an open mind, because it is not going to be your typical Hershey bar off the shelf. Be open to a whole new experience with chocolate and go with what you like."
In addition to offering a custom selection of chocolates, Bittersweet also hosts wine tastings at the shop, two of which are coming up later in November. At the wine tastings, numerous wines are paired with corresponding chocolates. "The first one, on November 17 will be chocolate and rosés, so we are going to do four different rosés," says Smith. "The one on November 29, we are calling stickies and bubblies, and that's going to include something sweeter."
To learn more, visit the Bittersweet Chocolate website.
Bittersweet Chocolate
513 Washington Street SE, Olympia
360.489.1812
Wednesday – Saturday: 10:00 a.m. – 6:00 p.m.
Sponsored