When thinking of great chocolatiers, my memories send me back to the side streets of France. Beautifully created chocolates with unique ingredients offered to weary travelers to create a boost in their day. That experience was once only found thousands of miles away. Now, we have it right here in downtown Olympia through the doors of BitterSweet Chocolates.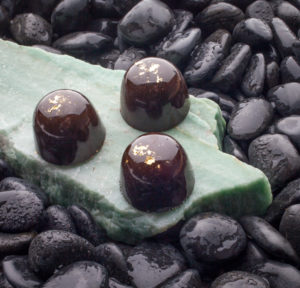 "We make all of our chocolate here in the shop," explains Co-owner of BitterSweet Chocolates, Cindy Uhrich, from her shop perfectly wedged in the center of downtown across the street from The Washington Center for the Performing Arts. "We try to use as many local ingredients as we can. The goal is to keep everything organic and regional."
With that goal in mind, Uhrich and Co-owner Deb Smith set out to bring a new spin on chocolate indulgence to Thurston County residents. "When we decided to do this, we did a lot of research in our region and we realized Thurston County didn't have a molded, decorative chocolate shop like ours," says Uhrich. "We decided we wanted to provide a different, affordable luxury chocolate experience to our community."
These two chocolatiers started in the world of higher education before landing in their downtown storefront. "Well, we met 20 years ago when we both worked at South Puget Sound Community College (SPSCC)," shares Uhrich. "Deb was the head of the Baking and Pastry Arts program and I was in Campus Activities. We did a lot of activities where we would work jointly, so we developed relationships during culinary collaborations. About 5 years ago we started talking about what life would look like after our jobs in higher education and what we might want to do. Deb pursued chocolates and started taking classes on her own time. The interest evolved more and more. The timing was just right."
Now, having left their jobs in higher education, they were ready to hone in on the process of opening a shop. Determining their creations took some serious deliberation and patience. "We really had to sit down and brainstorm chocolate ideas," explains Uhrich. "We did a lot of research around the region. We took 8 months to come up with our original 24 chocolates. Seasonally we rotate in different flavors. Currently, we are working on a line of caramels. We have a really nice salted caramel, caramel macchiato, maple bourbon, and balsamic caramel."
As the idea of their shop became reality, the owners needed a name and location for their creation. "We realized that the love we both have for chocolate making was similar to the love we had for our jobs at SPSCC," says Uhrich. "We found ourselves at a crossroads in our personal lives where we both loved our jobs, but we were in a position where it was time to move on to something else. We both left jobs that we loved to take on our new passion. It was all somewhat 'bitter sweet," which is how the name came to be. The location was an easy decision. We really wanted to be a part of the downtown Olympia business community. There is so much support here."
The flavor selection has morphed from the original 24 over time to include delectable treats that cannot be found at your average candy shop. A chocolate ganache made with local stout beer from 3 Magnets Brewing embracing the history of Olympia's past, while innovate flavors like Mati' Chai give a glimpse into the shop's future. To add to the already dynamic chocolate experience happening here, Bittersweet will soon be adding special events to their monthly calendar including wine and chocolate pairing events to bring further understanding to the depth of these exquisite treats.
Through creativity and local ingredients, these mouth-watering flavors are shaping the downtown tasting experience. With a goal of exceeding customer expectations, residents are gathering here to learn, taste, and enjoy a wide selection of flavors and in that process, changing their own love for chocolate into a passion.
BitterSweet Chocolates
513 Washington Street SE, Olympia
Phone: 360-489-1812
Wednesday – Saturday: 10:00 a.m. – 6:00 p.m.
Sponsored