It's a happy story – especially for our community. A young married couple leaves behind their lucrative corporate jobs in Singapore and move to Olympia, where they know no one, in order to open a health-minded, budget friendly, Asian-inspired fast food restaurant. What the Rommanns were lacking in restaurant experience, they made up for in determination and planning. Their shared vision meant an opportunity to set a course they designed. The most important element in this equation was that Ryan and Leena had each other. A lot has happened since Halloween three years ago when they opened up their first MiSo on the corner of Lacey Boulevard and College Street. Happy Anniversary, Leena and Ryan. We're so glad you're here.
"It's been quite a trip!" Ryan shares. "We've learned a lot." It is rewarding for the Rommanns to see MiSo bloom. Since the months before it opened, virtually all of their time and attention has been focused on the business. Actually, the bulk of their energy still goes toward the business, but the landscape has expanded. Now they are overseeing two locations. The Hawks Prairie restaurant opened earlier this year. With 14 employees, the scope of their management responsibilities has increased. MiSo's growth allows both Leena and Ryan to use their college educations to fuller expression.
Certain aspects of MiSo have evolved as time passed. Not surprisingly, new equipment has been purchased and added. Cooking methods have been tested and improved. Processes have been streamlined. Deliveries are made frequently to ensure freshness. Menu items appear or disappear based on what people want. What hasn't changed is their attention to their customers and to their service. It has always been important to listen to their customers.
Not long after opening there was a day when only two customers came in to eat. "That was hard," remembers Ryan. However, the couple alternately gave each other pep talks. At the same time they were inspired by the positive feedback they received from the customers they did have. People would come back the next day, and they would bring their friends. It was the fuel that kept them going. One day at a time, MiSo was built.
MiSo continues to keep its commitment to quality food. The Rommanns understand there are plenty of choices out there, and they remain certain that when you find food that really tastes good and is also good for your body, you will want more of it. That doesn't mean you need to be a yoga instructor or body builder to like Miso's menu. You will find familiar food like wraps, but your meal will not contain added chemicals, preservative, fillers or excessive sodium. That value is not only in your wallet but also for your health.
Though Ryan and Leena are hands-on owners, they are grateful that the workload is spread among their employees. They are glad those initial months of doing everything themselves have passed. Initially, it was up to the couple to unlock the door in the morning, prep vegetables and cook meats, serve customers and clean up, take out the trash and lock the door on the way out. Ben Boutilier-Mow, who loves working at the Hawks Prairie location, is one of their helping hands.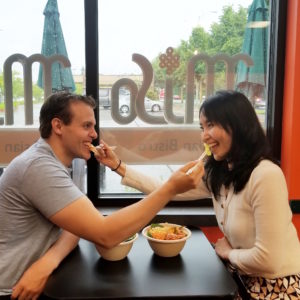 Now MiSo, along with Ryan and Leena, are well integrated into the community. They find joy in knowing their customers, like the couple that used to come in for dates, then got engaged and are now getting married. They see high school students heading off to college. A few of their customers have had significant weight loss. One lost 60 pounds and another 100 pounds. A shift to eating healthier meals translated into losing weight. MiSo is also kid-friendly. Parents are happy with the prices and the quality of their children's meals. MiSo loves serving healthy food not only to people who already like to eat healthfully but also to those interested in food that tastes good. The food is also ready for you in just a few minutes.
MiSo has a lot planned for the future. A new soup is coming: Thai Chicken Wild Rice. You can order ahead for pick-up or have delivery via Uber Eats and Grubhub. Remember the Hawks Prairie location has a drive-through window. Online ordering is in the works. There might be a third MiSo on the horizon. Keep your eyes open. In the meantime, MiSo wants to be your place for fit, fast and fresh. And you might as well have fun, too.
Eat Well – Be Well
MiSo Lacey
4512 Lacey Boulevard Suite B
Lacey, WA  98505
360-628-8416
Everyday 10:30 a.m. – 8:30 p.m.
MiSo Hawks Prairie
2539 Marvin Road A
Lacey, WA   98516
360-338-0162
Everyday 10:30 a.m. – 8:30 p.m.
Note that both locations are now open 7 days a week.
Sponsored