The youthful Ben Boutilier-Mow has achieved what many only dream of – joy and satisfaction in his life whether he is at work or at play. By day you can find Ben prepping food or engaging with customers at MiSo at Hawks Prairie. By night he is honing his competitive skills at Jiu-Jitsu Dynamics. In both environments, Ben is thoughtful and talented. He has found ways to integrate elements from each into the other, adding vitality and healthful energy into every step.
Ben first became acquainted with MiSo as a customer. The healthy options were the perfect ending for a hard Jiu-Jitsu workout. When he applied for a job there last year, he learned a Hawks Prairie MiSo was opening. He started at the new location and has been expanding his culinary abilities ever since. "It is one of my favorite jobs," says Ben. He enjoys his various tasks as well as all his co-workers. It's up to Ben to open the restaurant most mornings at 8:30 a.m., when he gets production underway. That means making sauces, cooking rice, roasting meats and chopping piles of vegetables. There is also soup to make daily. The choreography of all the activities throughout the business is mindful of his time at the Jiu-Jitsu gym. When he competes, his mind is always looking ahead for the next move. Customers start arriving at 10:30 a.m. so it is critical that everything is ready to go.
Initially Ben began working at MiSo at an entry level, but it wasn't long before he moved up the responsibility ladder. "Ben is one of a kind," remarks Ryan Rommann, who owns MiSO with his wife, Leena. Ryan was pleased to find a trustworthy person eager to take a larger role at work. When MiSo first opened in Lacey three years ago, the Rommanns were doing every single job, every single day. Having Ben be the opener is a great relief for the owners. "It's a blessing," say Ryan about having Ben being part of the team. His duties also extend to training new staff. Both Ryan and Leena still have their hands full with two locations, but they appreciate the dedication of their team members.
Ben, who is from a family of seven brothers, has been seriously working in the gym for several years. He earned his Jiu-Jitsu blue belt and finds competing in regional competitions to be both mentally and physically challenging. At times he has competed at 149 pounds as an Intermediate Adult. His diet improvements (eating at MiSo) have contributed to his lower weight of 136 pounds allowing him to compete at Featherweight. Ben uses his 5'9" frame to his full advantage. His meals at MiSo improved the quality of his food and his vegetable consumption soared. He correlates the freshness and addition of plant-based choices in his diet with his improved overall health and his ability to compete at a higher level. "I get a lot more vegetables now," he says, "including seaweed and salad."
Many customers are interested in finding meals outside the home that support their eating plans. Gluten-free options continue to be in demand. Many people are testing ketogenic diets and ones that simply include more vegetables and fewer processed foods, like the Whole 30 plan. MiSo speaks to all these and more. If you haven't yet been into MiSo, here's the way it works. You pick a platform or foundation for your meal – a bowl of brown or white rice, field greens, a nori wrap or a tortilla. Then you decide which toppings look good to you today. The meat is freshly cooked, the vegetables are prepped and the sauces are standing by. You need only point or pick from signature dishes, which are popular combinations. Ben's favorites are the Dragon Bowl, a savory combination of curry chicken, carrots, edamame, wantons and sauce. Ben is happy to chat with you about your personal likes in order to create the right meal for you.
MiSo strives to listen to its customers, making shifts in the menu as seasons and tastes change. The Tunami became a fixture because customers really liked having ahi available all the time. Look for additional hot soups as the weather cools and some new sauces for the holidays.
Ben is on his feet all day, but after work he heads to the gym for several hours of practicing jiu-jitsu fundamentals and then more intermediate and advanced competition training techniques. "I love it," he exclaims. He is also very fond of his cat Leo. When he's not at MiSo or at the gym, you would probably find Ben in his kitchen. "Baking is my main hobby," says Ben who grew up making cookies and cinnamon rolls with his grandmother. He is in the process of getting his AA at South Puget Sound Community College in Culinary Arts with an extra certification in baking.
You don't have to be a black belt to get energized by a delicious meal at MiSo! Find out how easy it is to eat food that is fresh and supports your everyday fitness. And be sure to ask Ben about his peach pies.
Eat Well – Be Well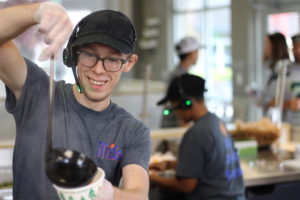 MiSo Lacey
4514 Lacey Boulevard Suite B
Lacey, WA 98503
360-628-8416
Everyday 10:30 a.m. – 8:30 p.m.
Miso Hawks Prairie
2539 Marvin Road A
Lacey, WA  98516
360-338-0162
Everyday 10:30 a.m. – 8:30 p.m.
Note that both locations are now open 7 days a week.
Sponsored