Over the past eight years, Comcast has worked tirelessly to connect more than six million low-income Americans to the Internet. The Internet Essentials program is the largest and most comprehensive high-speed Internet adoption program for low-income families in the U.S. In addition to assisting low income families, Comcast recently announced that the program will now be expanded to assist low-income U.S. veterans.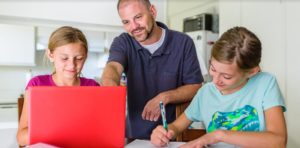 This program first began with a focus directed at families across the nation with school-age children. The specifications in Washington State are that if a child is eligible for the National School Lunch Program, then they are eligible for Internet Essentials. In addition, if more than 40 percent of the children at one school are eligible for the program, than every child attending the school is also eligible for Internet Essentials.
Statistics show that about 63 percent of Seattle's public and charter schools have eligibility for the program. Washington State ranks eighth in the nation in terms of the number of residents who have benefitted from this program. Over the past eight years, over 260,000 people from across the state have been a part of the program, including residents right here in Thurston County.
"The Internet Essentials program helps bridge the divide between low income families," explains David Cohen, Comcast senior executive vice president and chief diversity officer. "The first barrier that these families face is that they don't know how to properly utilize the Internet to improve their quality of life. The second barrier is that families don't have access to a computer and the third is the often high costs required to both obtain a computer and access the Internet."
Comcast has included those with federal housing assistance to be eligible for Internet Essentials, regardless of one's age or size of their family. This portion of the program also benefits individuals without permanent housing by connecting homeless programs with Comcast and signing up their facility to give residents access to Internet capabilities.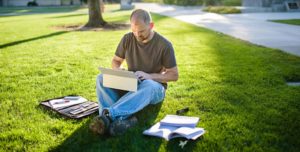 Currently in its 11th expansion, the Internet Essentials program has now branched out to include low-income veterans, making for the second largest expansion in the program's history. Within the state of Washington, this includes roughly 60,000 veterans, and within the nation this includes nearly one million. A finding from the United States Census Bureau's 2016 American Community Survey shows that roughly a third of low-income veterans do not have access to Internet access and less than 60 percent own their own computer.
"This is a comprehensive, holistic program," says Cohen. "Our continued focus is building a safe online experience for customers and we could not be more excited to expand services to low-income veterans."
The qualifications for a veteran to be entered into the program requires them to be eligible for any assistance program at the state or national level. This can include anything from disability to food stamps, and no matter the assistance level, these veterans are able to receive help from the program.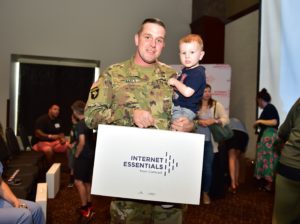 For those eligible, the Internet Essentials program includes: the option to purchase one Internet-ready laptop per household for under $150; low-cost high-speed Internet service for $9.95 a month plus tax; and multiple options to access free digital literacy training in print, online and in person. Participants are not required to reapply for the program each year.
Since August 2018, David Cohen has teamed together with U.S. Olympic Gold Medalists Monique Lamoureux-Morando and Jocelyne Lamoureux-Davidson on a multi-city tour around the U.S. to raise awareness about the Internet Essentials program. Both Lamoureux-Monrado and Lamoureux-Davidson were named as ambassadors and spokespeople for the company's corporate values initiatives.
The trio recently spoke at a digital literacy assembly at Beverly Elementary School in Lynnwood while on their Washington leg of the tour to help accelerate access to technology resources for low-income students. At the rally, 150 students were recognized as digital ambassadors and given new laptops to help provide them with the resources that they need to continue to expand their educational opportunities.
"While on this tour, we'll be explaining the importance of Internet connection," announces Lamoureux-Morando. "After the Olympics ended in PyeongChang, Jocelyn and I realized the importance of being an Olympic champion and the platform that it gives us. We sat down with David and chatted about the programs that Comcast offers where he educated us on Internet Essentials. Today, we both have great satisfaction being able to visit numerous communities across the U.S. and make an impact."
The tour will fittingly conclude on Veteran's Day, but the effort to continue raising awareness about this program is far from over. "As the program continues to expand year after year," says Cohen, "we will be giving every effort to spread the word and help residents across the country gain access to the Internet."
For details about the Internet Essentials program and how to apply, please visit the Internet Essentials website.
Sponsored