Patti Peterson moved to Olympia about a year ago and immediately placed a call with longtime North Thurston High School swim coach Jak Ayres, asking if he needed any assistant coaches on his staff.

Ayres, who founded both the boys and girls swimming programs at the school in 1969, was in the market for additional help as the Rams had a much higher turnout for the boys' squad last year than expected.
Peterson, who coached 11 years at Bainbridge High School before arriving in Thurston County, was exactly what Ayres was looking for. The Rams would go undefeated in 3A South Sound Conference meets during the regular season before claiming 11th at the state meet.
"The conversation then became, 'Let's talk about you being an assistant for the girls,'" Peterson said.
The previous season, Ayres was named the 3A state girls swimming coach of the year by the Washington State Swim Coaches Association, but retired prior to the start of this year, and Peterson went from potential girls assistant coach to head coach almost overnight.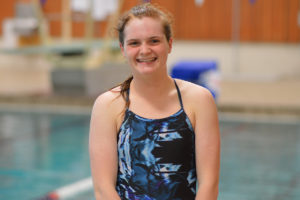 "It was very much a whirlwind," said Peterson, who is also a paraeducator at Garfield Elementary. "It wasn't quite the way I expected the season to start, but I've been committed to the girls to make sure they have a positive experience, and the girls have just been great. They have a lot of traditions here, and the girls have been really good at helping me along with those and helping transition them into becoming our own."
The biggest tradition that still holds true is the team-first approach the Rams have to a sport that is generally individual.
"Everything you do might be individual, but it's still a team sport," senior Samantha Leo said. "Everything you do benefits the team. It's tough for some people to realize that even if you do not get first, you're still contributing. You're still trying to get that one point that will help the team."
And if you're not swimming, you're helping the team in other valuable ways.
"Everyone is cheering," sophomore Avery Campbell said. "This is one big family. We all care for each other. It's just really fun to come out here after school and be with so many people who care about you and support you. Everyone here wants you to do your best."
The other staple that Ayres always preached that has carried over is the "Ram Finish."
"It's giving your best effort that last little bit of a race," Leo said. "It's at that point of the race when you are the most tired, but you push through."
Leo and fellow seniors Brooke Kuebler, Nicole Anderson, and Aryana Merritt are focused on applying this Ram Finish mentality as they close out their high school careers.
"No regrets," Leo said. "Just give it our all."
Anderson, Kuebler, and Leo are all looking for a return trip to the state meet, which will be held at the King County Aquatic Center in Federal Way November 9-10.
Keubler, already the school record holder in 200 medley relay, 200 free relay, and 400 free relay, is looking to add her name to the record book in a couple more events before her Ram swimming days are over.
Kuebler is within striking distance to both the 50 free record, which was set in 2010 by Katy Tiernan (24.95 seconds), and the 100 free benchmark, which Michelle Flury established in 1985 at 54.8.
"It really motivates me to go out there and swim hard every day," Kuebler said about chasing the school records. "I am eight one-hundredths of a second off the 100 and about half a second off the 50. So I am right there."
Whether she leaves the program holding five school records or not, Kuebler has left her mark on the program in more ways than just contributing fast times, according to Peterson.
"She sees herself as setting the example for the team to follow," Peterson said. "She shows up every day at practice and works hard. She knows as a captain and as a leader that people are looking up to her and she does it the right way."
Kuebler also teams up with Anderson, Campbell, and Leo on the Rams' 400 relay team, which finished 15th at state last year with a time of 3:49.17.
North Thurston's 200 medley relay of Anderson, Campbell, Kuebler, and junior Megan Litchfield are also looking for a return trip to state, making the Rams one of the few teams that welcomed back each member of a state-qualifying relay team from 2017.
In addition to being a part of the relay teams, Campbell is also a state contender in both the 100 backstroke and 200 IM, she finished 14th in the former at state as a freshman.
"In order to get faster, you have to put the work in and everyone has been doing that this year," Peterson said. "It's a fun group to be around. Everyone gets to swim. Everyone gets to improve. Everyone gets to be a part of this team, and I think that is very important as they move on to the real world."