Melanie Bakala, State Farm agent, is no stranger to OysterFest. For the past nine years she's been involved through the Skookum Rotary Club and in 2017 she was even the event chair, aka Grand Ole Oyster (GOO).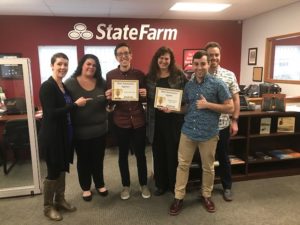 But this year was different. Instead of supporting the overall festival as a volunteer, Bakala, her husband, and many volunteers ran a taco booth to raise money for a very specific purpose: the $16 million Shelton YMCA capital campaign. "We're excited about bringing a YMCA to Mason County," says Bakala. "We're hoping to see it very soon."
A Y would prove a huge community asset for all ages, especially for one of Bakala's core causes. "My heart is very much around kids and making sure we're investing in our future," she explains. "The Y is the type of organization that can change kids' lives in the long term." A community kick-off event for the capital campaign will be held on October 23 at the former Olsen Furniture building.
As a State Farm agent with offices in both Shelton and Olympia, Bakala has always been community-minded. When she wrote her first business plan, her coach had to remind her that the agency needed to focus less on community involvement and more on growing the business. "While she was right, always find myself looking to see how we can make a difference," she says.
Since the Shelton office opened in 2010, that involvement has taken many forms. She has served as both president and board member for the Shelton-Mason County Chamber of Commerce and currently sits on the board of the Community Foundation of South Puget Sound. Of the latter, she says, "It's one of the best kept secrets in our area. We give out over $300,000 in grants every year, but the goal is also inspiring philanthropy. That's what draws me to it."
Recently she joined Shelton School District's Career and Technical Education Business Advisory Board. Representatives from diverse industries provide input to help guide the district in offering relevant educational pathways for students. In Shelton, just 25 percent of the student body goes on to four-year college, making the need for alternative routes to family wage jobs even more pressing.
Resources for homeless youth are also in demand. Washington State has over 40,000 homeless youth, or 1 per classroom as of September 2018, the highest percentage in state history. Homeless youth score higher on Adverse Childhood Experiences (ACEs) tests than the population at large. The test measures traumas such as homelessness itself, physical and sexual abuse, neglect, exposure to substance abuse, losing a family member, and more. Those with higher ACEs scores are at greater risk for a multitude of physical and mental health issues in adulthood, including cardiac problems, cancer, abusing substances themselves, suicide, and self-destructive or criminal behavior.
Research has shown that the impacts of ACEs can be reversed or mitigated. One key: stable, nurturing relationships with caring adults. "I've spent a lot of time on committees studying homelessness, and I want to put in the effort now to stem the tide," says Bakala. "We want to reverse those ACEs. That's why the Y is so important as a community hub."
In the meantime, she raises resources for homeless youth and adults along with other causes through annual movie nights. From the beginning, Bakala's Shelton office has hosted free film screenings that are open to the whole community, not just her clients. The events serve as both a client appreciation and a way to raise awareness and donations for local non-profits. "We buy most of the seats at Shelton Cinemas and ask attendees to bring something to support the community," she says. "We focus on comfort items like toothbrushes and hygiene items rather than food."
At first, the event took several weeks to sell out. Now, says Bakala, "I'll post the notice, go to lunch and the tickets are sold within an hour." Families who rarely have the opportunity for social outings express their appreciation, and causes like Crossroads Housing, Turning Pointe Survivor Advocacy Center, Adopt-a-Pet and Community Lifeline reap the benefit. "It's such an amazing event," she says. "We're planning to do another in November."
Bakala's Lacey office is a part of North Thurston Schools Partners in Education (PIE) program, and her staff involved is getting involved as well. "We were looking for ways to encourage my team to participate, and their Big Brothers Big Sisters program is always looking for males," she says. "One of my team members is becoming a Big Brother at Salish Middle School one hour a week. I think it will be something he'll really like."
As for herself, Bakala plans to stay as involved as possible in her community. "For me, it's a sense of purpose. That's a lot of why I'm in this business."
Melanie Bakala has offices in both Shelton and Lacey. Learn more by visiting the Melanie Bakala State Farm website or calling 360-426-2428 (Shelton) or 360-972-7905 (Lacey).
Sponsored