As the rains return and the leaves become a kaleidoscope of color, we say our goodbyes to summer and turn with a warm embrace toward autumn. The Iron Rabbit Restaurant and Bar lives by their guiding principles and one of those principles is to embrace change. In the spirit of the coming seasonal change the Iron Rabbit welcomes changes to their menu, which includes new, inspired dishes. Ross Eddins, general manager for the Iron Rabbit, is excited to share several new menu offerings with you.
"We like to keep our menu fresh and interesting," says Ross. The new seasonal specials are sure to warm you up with some delicious flavors and even a little spicy heat.
Part of the Hoppy Hour menu, available every day from 3:00 p.m. to 5:30 p.m. in the bar, the fiery buffalo cauliflower bites are a surefire crowd pleaser, says Ross. The vegetarian option makes a great snack or appetizer. The cooks season and roast the cauliflower, then it is fried and tossed with the Iron Rabbit's house-made fiery sauce. Served with blue cheese dressing and carrots, this spicy snack will have you coming back for more.
The Art of Dungeness Crab Dip is one of the Iron Rabbit's most popular appetizers. Creamy and delicious, and made with 100 percent Dungeness crab, it's truly an artistic masterpiece. Dungeness crabs live in the icy cold waters of the Pacific Ocean, and are the undisputed kings of west coast, taking their name from the Port of Dungeness in the Strait of Juan de Fuca where the crabs were first fished for commercially. These local crabs give the dip an enchanting flavor. Iron Rabbit pairs artichokes with Dungeness and a hint of lemon for a delectable dish.
If you are looking for more than a snack, Iron Rabbit has you covered. "Long time regulars of the Iron Rabbit will recognize that the bacon bleu burger is a new take on a classic favorite—the tough burger," says Ross.  Crispy onion strings combined with gorgonzola and bacon make this burger a must try. As always, all of Iron Rabbit's delicious burgers are 100 percent grass fed beef from Painted Hills Natural Beef. Grass fed beef is just a part of the Iron Rabbit's commitment to sustainable practices, and is a significant part of why the Iron Rabbit has become known for incredible burgers. From the ever-popular Rancher Burger, with house-made berry BBQ sauce and crispy onion strings, to the Sicilian Burger, recently described by a guest as "ambrosial", guests are sure to find a burger they'll love. Vegetarians will also delight in the UnBeetable veggie patty, made from scratch with roasted beets, black beans, carrots, oats and rice, which is available for substitution on any burger.
Additionally, for lunch, the Iron Rabbit is featuring a grilled cheese with Dungeness crab bisque combo. The soup and sandwich play well off each other for a lunchtime meal both flavorful and satisfying. "The grilled cheese with Dungeness crab bisque is sure to hit the spot as we get more chilly weather," Ross says.
"Another key part of our sustainable practices is to seek out and eliminate waste," Ross explains.  "In line with that, straws will now be available upon request only," he adds. The Iron Rabbit moved to compostable straws years ago and is currently also testing out new kinds of straws made from natural and biodegradable materials like straw. This change is just one of the many ways that the Iron Rabbit seeks to be an environmentally responsible business. There are many other ways they keep with this commitment, from using linens to reduce waste to composting leftover food that guests leave on the plate." We're always working on evolving in our commitment to sustainable practices," says Ross, "and we appreciate our guests' support in this effort."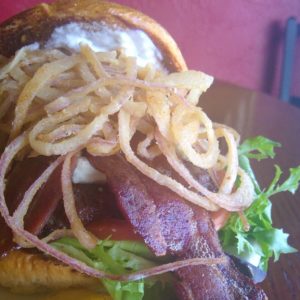 The Iron Rabbit Restaurant and Bar can accommodate parties large and small. Reservations are recommended for parties larger than five to reduce wait time. To make a reservation, call 360-956-3661. To sign up for Rabbit Rewards, check out the Iron Rabbit's website.
The Iron Rabbit Restaurant and Bar
2103 Harrison Ave NW, Olympia
Monday-Thursday: 11:00 a.m. – 9:00 p.m.
Friday: 11:00 a.m. – 10:00 p.m.
Saturday: 9:00 a.m. – 10:00 p.m.
Sunday: 9:00 a.m. – 9:00 p.m.
Sponsored