The Hood Canal is known for its beautiful views and scenic trails. It's a top destination for anyone who enjoys the outdoors, but there is more to discover beyond the dense forest and deep blue waters for those over the age of 21.
This area has quickly become one of the best spots to enjoy a local, well-made drink with friends.
Beer
Let's start with the basics – an ice-cold, frothy beer. The Hood Canal reaches as far north as Kingston and as far south as Hoodsport. The south end has plenty to offer so you don't have to drive too far from home.
First stop, Alderbrook Resort. This upscale resort is situated in Union on the fjord portion of the canal. The bar here is fully stocked with a breathtaking view that cannot be missed. In the summer, be sure to take that beer outside to their outdoor seating area for a relaxed, vacation vibe.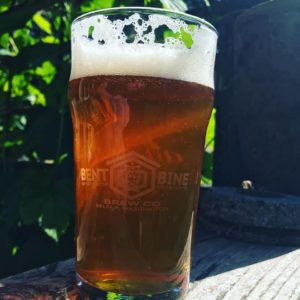 Drive east and find yourself in the small town of Belfair to enjoy a pint at Bent Bine Brew Co. Owned by brothers from Wisconsin, these transplants are bringing their family craft to the canal. Their ales range in variety from American Lager to a fruit-forward IPA. It's a great stop for a delicious drink on your exploration of the Hood Canal.
On the western side of the water, quench your thirst with a beer on tap at Lucky Dog Casino. Their fully stocked bar and gaming options makes this a fun stop along the way. Local beers can be enjoyed within the bar area and on the gaming floor. You never know, you could stop in for a beer and leave with some cash.
Wine
In Hoodsport, one of the state's oldest wineries is ready to serve a tasting flight. Hoodsport Winery has been a focal point on the canal since 1978. Their wine label depicts a gorgeous view of the canal and Olympic Mountains and if you stop in, you will see exactly that. Be sure to try their one-of-a-kind rhubarb wine. For $8, you can complete a tasting of their incredible wines and if you decide to purchase a bottle, the tasting fee is applied to the total cost.
Just up the street in Hoodsport, check out Stottle Winery. For $9, guests can taste all five daily selections available. Again, if you choose to purchase a bottle, this fee is applied to the total cost. These classic wines are created by Amy & Josh Stottlemeyer whose passion for wine led them down the path to their first winery in Lacey. The Hoodsport tasting room was added later on to give weary Highway 101 travelers an opportunity to indulge in a glass after a long day of adventures.
On the eastern side, Belfair is host to Mosquito Fleet Winery. Known specifically for their red wines, the winemakers here are focused on Old World traditions with a modern twist. Their wines are winning awards left and right making it a must visit for wine connoisseurs. Plan accordingly as this tasting room is only open on the weekend.
If you want to taste wine all in one spot and skip the drive, stop in at Cameo Boutique & Wine Shop in Union. Along with wines from around the world, visitors can taste local favorites from along the Hood Canal in this historic building. They also offer a wide variety of gifts for those looking for a souvenir from their day trip. Wine tastings at this boutique are complimentary every Saturday afternoon.
Distillery
The Hardware Distillery in Hoodsport has a unique take on spirits using fresh, pure water that flows from the nearby Olympic Mountains. Everything that goes into their products is Washington grown and their barrels are aged in the direction of the salty wind off the Hood Canal. Their tasting room flows with a variety of whiskey, gin, and vodka. If you are interested in their process, you can even arrange a tour with the co-owner before taking that first sip of homemade spirits.
Take the opportunity to drive north and discover the beer, wine, and spirits of the Hood Canal. It's an unforgettable trip that is sure to impress your taste buds.
Sponsored