When people unite, it can truly change their world. Maya Angelou once said that "As you grow older, you will discover that you have two hands, one for helping yourself, the other for helping others." This quote is proudly featured on United Way of Thurston County's Facebook page and echoes their longstanding mission to "Improve lives, strengthen our communities, and advance equity by mobilizing the caring power of people in Thurston County."
Founded in 1936, the local United Way of Thurston County is part of a much larger whole. There are almost 1,300 local United Way affiliates nationally and 1,800 worldwide. United Way top the Forbes list of American charities. UWTC support numerous local programs advancing their priorities in health, education, and financial stability.
One of the most active, exciting offshoots of the United Way is Women United. For many years this group has strived to benefit women and girls across the region. Randi Nandyal, director of new business development for United Way of Thurston County, is excited for their continued outreach.
"A woman who makes United Way part of her philanthropy," explains Nandyal, "is also part of a larger group of dynamic women working together to solve urgent, local community problems. Women United identifies a specific issue, within the larger United Way focus areas, to strategically influence better outcomes."
Their current focus is one of compassion and urgency. "Women United of Thurston County's current Signature Issue is focused on improving the lives of a growing and vulnerable population: families with children who are currently homeless or on the verge of becoming homeless," says Nandyal. "We'll work with partner agencies to identify unmet needs and develop a funding strategy to make a real difference in the lives of these families and children."
Members come from across the spectrum of Thurston County women. There are small business owners, business professionals, moms, and representatives of every social and economic background. The group is guided by a seven-woman committee and raises money through two large-scale fundraisers: the Power of the Purse and Shelter Shower.
One such business owner is Tiana Kleinhoff of Welcome Home Rentals in Lacey. A member of their grant committee, she's a passionate member of the team. "She's a volunteer extraordinaire," says Nandyal. "Women United resonated with her—she embodies what we are: a global, growing force of 70,000+ women dedicated to creating a world of opportunity—for everyone. Together, we create lasting change to lift up entire communities. In the past two years that I've worked with Tiana on the Women United Grants Committee, I've discovered that she is fair, asks tough questions and is reliably consistent."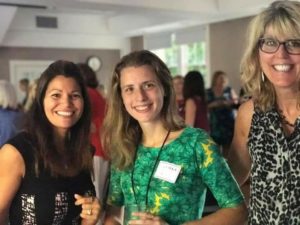 Designated financial grants are spread far and wide. The most recent recipients include CIELO's Latina Economic Empowerment Program ¡Avanzando Juntas!, SafePlace's Crisis Intervention and Advocacy Program, and the YWCA's Economic Empowerment Program. Also honored are the Washington Center for Women in Business's Scholarship and Rural Business Program and the Family Housing and Economic Stability Project of the Family Support Center of South Sound.
These five awards will change lives and restore futures. CIELO and the Washington Center for Women in Business help women focus on self-sufficiency and growth, while SafePlace guides domestic and sexual violence survivors towards a new life. The YWCA and Family Support Center provide job training, social, and financial support to low-income, the un- and under-employed, and single-mother households.
Women United considers this money an investment in the community. Since 2009, they've invested more than $300,000 in grants back into Thurston County. This year, consider joining them at one of the two upcoming fundraisers.
This winter is the 10th annual Shelter Shower. Taking place in December, it's a fun chance to meet, mingle, and enjoy a night on the town all while benefiting women throughout the community. The next Power of the Purse event is on Friday, May 10, 2019 and a good time is had by all – there are pictures to prove it!
Can't wait until then to become part of the team? Consider volunteering with the United Way or joining one of their volunteer outreach opportunities. You can also make a one-time or recurring donation and funds will stay within the county, benefitting people all around. To join Women United, call Randi Nandyal at 360-943-2773, extension 115, or email her at rnandyal@unitedway-thurston.org.
Change seems difficult sometimes but obstacles can be overcome when there's power in numbers. Thanks to Women United, families are healthier, happier, and on the road to a brighter future.
Sponsored