My favorite word is serendipity, but few people actually know the true meaning of the word – a fortunate accident. Sometimes we have experiences or people who come into our lives and we don't know exactly why at the time, but just that it's meant to be. Which is exactly what happened to Madelin Hull White of Merle Norman Cosmetics, Wigs, and Day Spa when an old friend showed back up at her door.
Missy Bennett is the new esthetician in town, but really she's an old friend coming home. The daughter of Madelin's best friend, Missy was like part of the family growing up. "Madelin actually gave me my first job when I was just 16-years-old," says Missy. "She hired me to work in her store and taught me all about skincare and how to do makeup."
In turn, Missy's mom, who passed from cancer, was the inspiration for Madelin's work with the Look Good, Feel Better program, a free class dedicated to helping cancer patients feel better about themselves through beauty. So of course, when Missy came calling again, Madelin welcomed her back with open arms.
After graduating from college and working in a number of different fields, Missy decided to return to her roots in beauty. "I always really loved and felt like esthetics was my passion so when I had an opportunity, I decided to get back into it," she explains. Working in both Las Vegas and California, Missy returned to the Northwest, and to Madelin, bringing with her a dedication to healthy skin. "I honestly believe I make people look 5 to 10 years younger when they step out of here," she adds. "You get renewed, glowing skin because we remove that dead layer and then your skin just shines."
Both she and Madelin agree the two most important things you can do on a regular basis is to use sunscreen and exfoliate. Because exfoliation encourages skin to regenerate itself, it allows products to work better. "If you don't get rid of that dead skin you could pile moisturizer on two inches thick and it's not going to go anyplace," Madelin explains. "It's just going to moisturize those dead pieces of skin."
That's where Missy comes in.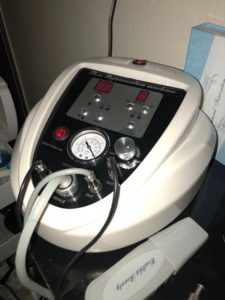 Specializing in a variety of different facials from anti-aging and acne, to customized treatments, Missy's goal is to help people achieve their best skin possible. And the Merle Norman Spa line makes it even easier to get the results she wants. "Our products are very high end and you get amazing results with them," she shares. "It's also so important after a facial to have the right products for the daily care. And this line is some of the best I have ever seen, they are absolutely excellent."
But if you've never had a facial before you might not know what to expect. Missy explains the first thing she does is analyze your skin and what you want to achieve. This way she can carefully select the right products and treatments for your needs, which could include hydration, deep cleaning, extractions, micro dermabrasion and a number of other things Missy has expertise in. She says she especially enjoys treating people who struggle with acne. "I've helped a lot of adolescents with acne and you can actually change their lives because it causes them so much anxiety and stress," Missy shares. "Even after the first visit they will notice a difference."
However, even if you don't have acne or a particular concern, an appointment with Missy is sure to still bring about amazing results. She says expect to walk out with clearer, glowing skin, and less wrinkles, and much more. "Not only are you having your skin taken care of, but you're also having steam put on your face, getting a massage, just being pampered in a totally relaxing manner," Missy says. And it's not just for the ladies either, men can benefit from facials as well.
A facial is the perfect way to treat yourself before a special event or just to help you achieve your best skin possible. Missy says she encourages people to come in for their first time and just give it a try. "I know once people come in and have my services they will want to come back," Missy says. "So I'm doing an entry facial special so I can allow people to experience it. Madelin is a perfect example of exactly what good skin care can do for you. She looks like someone many years younger."
And don't forget Merle Norman is also a full day spa with massage, cosmetics, skin care products, cosmetologists, and also the largest selection of wigs in the area. "We really are a one-stop shop for beauty," Madelin says. "I've been saying that forever."
Merle Norman Cosmetics, Wigs, and Day Spa
3925 8th Ave SE in Lacey
360-491-4911
Monday – Friday: 9:00 a.m. – 6:00 p.m.
Saturday: 10:00 a.m. – 6:00 p.m.
Sunday: Closed
Sponsored