Meaningful work with meaningful pay can be challenging to find even when unemployment is seen as low. Advanced Health Care's ProCare Academy prepares people to be competent Certified Nursing Assistants (CNA) and opens the way to valuable and compassionate careers. In a relatively short period of time, you can earn this in-demand certification. The Olympia teaching center recently graduated 22 students. Some had jobs in the field before the training was even finished.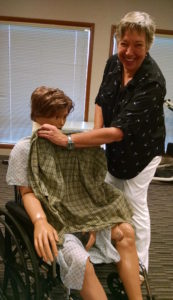 What is a Certified Nursing Assistant? CNA's provide basic care and assistance for many daily activities for those who require help. The tasks can vary greatly, depending on the needs of the client. It might be assisting with bathing or meals or being a companion for appointments. There are jobs at hospitals, care facilities, and in-home settings. Though being a CNA is a gateway to nursing and other medical professions, many find it a fulfilling career.
People come to ProCare from all walks of life. Past ProCare students have ranged in age from 16-years-old to 72-years-old. Many are in college. ProCare's varied class times allow full-time students to do both. Subsequent employment for a CNA typically has flexible hours. Since care providers are needed at all hours on all days, it is possible to have a part- or full-time work schedule with the hours that suit your life.
ProCare students also have varied needs. A few take the course because they are the primary care providers for a spouse or other loved ones whose needs become increasingly greater as time passes. Initially the training was a way to augment their skill set and be more effective at home. It wasn't about getting a job. However, as these students gain newfound confidence in their abilities they often decide to do the state testing and become officially certified. There is a growing number of stories about these care providers who enter the workforce after the family member passes away. Their personal experience and understanding of end-of-life care brings a deep level of empathy for their care recipients.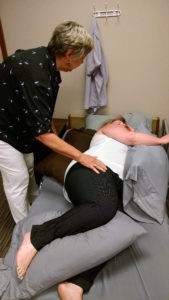 Some come to the academy because of a plan to be a nurse, a physician, or to enter a specific medical profession. Getting your CNA certification is an excellent stepping stone. Others find their lives moving in new directions, such as children growing up and out. Those with limited or no professional training but want to work, find becoming a CNA an excellent fit.
Even though the student body varies greatly in age and intentions, strong bonds grow in each class. Everyone is learning and moving forward together. This is just one of the reasons Nancy Matthews, a Registered Nurse (RN) and teacher for ProCare, loves to teach. Two and a half years ago she moved to Olympia to be close to her aging father. She stopped by Advanced Health Care for part-time work. Matthews happened to mention that she really wanted to teach. Over her 45 years as an RN, she'd worked in a hospital, a doctor's office, a clinic, a school, and a camp. Julie Ferguson, Advanced Health Care co-owner and administrator, was within earshot and needed a teacher. Matthews has been teaching ever since. "It's fun, energetic and very healing," Matthews shares. She and eight other nurses make up the teaching staff at ProCare. Each teacher brings their expertise and experience to the students.
Ferguson loves to see the fresh faces of incoming students. "They start scared, build confidence and pass the test," she says. She notes that many graduates come to work for AHC.
The curriculum covers the 22 skills required for certification. ProCare Academy has a classroom and a practicum room with beds and a mannequin. Students also receive seven hours of HIV education and CPR training. Outside of the classroom, students complete 40 clinic hours at actual care sites under the supervision of their instructors. Passing students receive a diploma and are ready for the state written and practical examinations.
Weekday classes meet for four weeks from 8:00 a.m. to 4:00 p.m. Evening classes run from 5:00 p.m. to 9:30 p.m. and take six weeks to complete. There is also an eight-weekend option. Classes usually have 15 to 18 students. Tuition, books, scrub top and gait belt (all the things you need) cost $749. Home Care Aides (HCA) who desire to become a CNA can take the bridge program through ProCare. You can check the current schedules to see what will work for you.
ProCare Academy has locations in Olympia and Tacoma. Enrollment is ongoing. Call 1-888-960-2553 and find further information on the ProCare Academy website. ProCare Academy is located within the Advanced Health Care's offices. AHC connects you with compassionate care for yourself or loved ones.
Sponsored