Northwest Christian High School cross country coach Mike Michael is one of the last to arrive at the Saint Martin's University track, electing to go with his bike as his morning mode of transportation.
Waiting for his arrival are 15 Navigators, each with their running shoes laced up and smiles on their faces.
It's the heart of summer vacation for high school students, most of which aren't found outside ready for a 9:00 a.m. run. But that's not the case for this group, who are choosing to trade in some relaxation for perspiration.
"It's good for them to be here," Michael said, "but it's certainly not mandatory."
No, it's not, but if you're looking for a reason why they are all there, Ava Shackell – the only incoming senior on the girls' squad – has a shirt that perfectly sums up the team's outlook.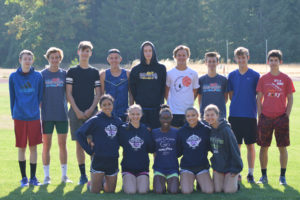 "It says, 'No Summer, No State,' on the front," Shackell said. "I think that's really a good motto for our team. We all have that same mindset. We all come out here at 9:00 a.m. and get our work in so we can have a really good season."
The start of the high school cross country season is still some two months away, but Shackell and her teammates know it is now, not September or October, when races are won.
"Usually there's other stuff I want to do during the summer," senior Hamilton Summers said. "For me running during the summer is a little bit of a pain, but it definitely pays off."
And Northwest Christian has plenty of hardware to back his statement up as the Navigators' gymnasium is covered with state championship banners for both programs, and if you cruise through the trophy case you'll even find a national championship.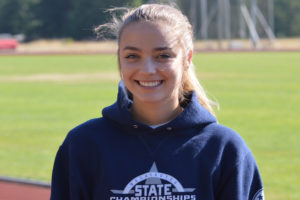 So it's safe to say they know what they're doing.
"They usually take about two weeks off after the track season ends. We let them do whatever they want, but some of them can't sit still for two weeks and they run on their own three days a week," Michael said. "But we officially start our summer running program after that two week break."
The summer running program isn't just limited to Northwest Christian cross country members.
"We're actually open to the whole public," Michael said. "We get some parents who come out and they get hooked and get the running bug. We've had runners from other schools come out. Runners from North Thurston, Tumwater, Timberline, Capital, Olympia have all come out and worked with the kids. It's nice. They get to know some of their competitors that they will run against during the season."
The team runs five days a week from 9:00 a.m. until 10:30 a.m. with Fridays and Sundays off. The program ends August 1 to accommodate the statewide high school coaching blackout, which prevents coaches from working with their athletes until the first fall practice.
"It's just for whoever shows up," Michael said, "but it's always a good group."
The hope is all the work will lead to more state titles for Northwest Christian – something that has turned almost into an embarrassment of riches for the Navigators.
The boys' team wrapped up their fourth consecutive Class 1B/2B state championship last season, while the girls' squad, which won a remarkable nine straight state titles between 2006 and 2014, finished as state runner-up for a second straight season.
But out here, in July, no one speaks about state titles.
"Not yet," Summers said. "We will see once the school year gets going. We usually don't put too much weight in it, but we also assume in the back of our minds that we are going to do pretty good."
Regardless of whether it's discussed or not, every Navigator cross country runner knows it all starts here.
"Cross country is definitely one of those sports where it takes time to build up a base," Shackell said. "The cross country season is two months, maybe less than that? You want to make those few races count. So that's why we're out here now."
The Northwest Christian boys' team returns all seven of its 2017 state meet participants this year, including senior Carson Buster and juniors Garrett McSheffrey and Noah Phillips, who finished ninth and 11th, respectively, at state.
"It's actually a lot of fun," Summers said about the summer conditioning program. "It would be a heck of lot more work running without these guys with me."
The Navigator girls welcome back plenty of talent as well, including juniors Tosin Faleke, Nina Fraser, and Jacalyn Tague – a trio of gifted runners who all joined Shackell at the state meet last year.
"We have a great group of girls. The guys do too. I think we all have a special bond," said Shackell, who finished eighth at the state meet last year with a time of 20:14.10. "We all really contribute to that leadership position. We all rely on each other for support."