North Thurston High School freshman, Levi Cantrell, will be competing on his horse, Buddy, this week at the Thurston County Fair, taking place August 1-5 at the Thurston County Fairgrounds & Event Center.
Levi and his family live out in Lacey on a small bit of acreage where they take care of their two horses and several goats. Levi is the youngest of three kids and has been showing and riding horses in 4-H for seven years. His horse, Buddy, is a 21-year-old purebred Appaloosa, a breed known for their muscular build as well as their speed.
According to the PNW 4-H Horse Contest Guide, the mission of the 4-H Youth Development Program is to use the 4-H horse project as a vehicle for members to practice life skills while learning about the equine industry and how to safely handle, ride, and manage their horse.
There are several different types of horse events 4-H, including Showmanship, Equitation, Dressage, Trail, and Driving. Levi will be competing in English performance, which falls under the dressage category. Levi says this is a traditional style that goes back to when horses were primarily in Europe, and conjures images of what you'd see in a fox hunt or polo match.
Along with English performance, Levi and Buddy will be competing in Hunter/Jumper Seat Equitation, which is a style of forward seat riding where the horse jumps over fences.
While Levi has a broad range of experience and specialties, he says his strong suit lies in the Western Games. These thrilling, fast paced competitions consist of speed pattern racing. Common events are Barrel Racing, Key Race, Two-Barrel Flag Race, International Flag Race, Figure 8 Stake Race, and Pole Bending.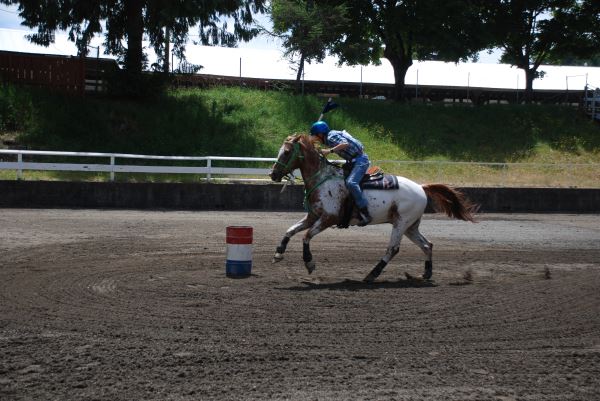 The time commitment for Levi is year round, with club meetings taking place once a month and ramping up during the summer months before the fair. At this point in his 4-H career, Levi says he takes on a stress-free attitude when competing, no doubt due to his life-long experience as a 4-H member and equestrian. Levi is already quite the accomplished 4-H competitor, having made it to the state-level competition three times in gaming.
Levi's mother, Rebecca Cantrell, grew up participating in 4-H herself, and after spending the last 15 years watching three of her kids go through the program, she has only positive things to say. "A lot of people look at the animal side of this program, but 4-H has so much more to give to kids," Rebecca says. "The 4-H curriculum and life skills they learn truly translate to daily life in an adult world."
Levi says he'd definitely recommend 4-H to other teens and agrees that the program has already taught him lots of useful, transferable life skills. "You learn all sorts of valuable things, like public speaking, networking, researching and presenting, and time management," he says. "We're even responsible for going out in the community and getting our own individual sponsorships to compete."
While so far it's been horses only during his 4-H tenure, Levi says the STEM program might be something of interest in the future, as he's currently busy building a custom bicycle. Levi fills the rest of his time as a varsity member on North Thurston's cross country team, as well as competing in other horse related activities such as WAHSET (Washington High School Equestrian Teams).