It's not just a local business it's a family affair, now stretching out over 3 generations.  In 1962 Virgil Adams, at 37-years-old, made the front page of The Olympian for the first time with the announcement he was quitting his high paying job at the Olympia School District of $850 a month ($10,200 a year) to start his new business.  Virgil had decided to work from his home to start his development business.  By 1970 Virgil Adams Real Estate was formally established so he could sell the lots created in his subdivisions and his first office was formed.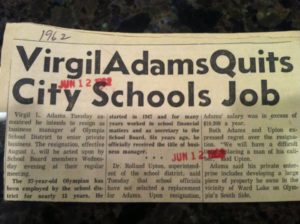 Dennis Adams, Virgil's son eventually got involved in the business. Even though he was an only child, he never felt obligated to follow in his father's footsteps.
Dennis, after graduating from Eastern Washington University, with a degree in business management worked as an insurance claims adjustor before his father made a call to get him into the family business.  "My Dad called me up and said 'Do you realize you can sell two or three homes a month and make more than you're making now?'" Remembers Dennis. "So, I quit and came to work here in 1975."
Dennis is glad he made that decision. He's found his dream job.
Tammy Adams also had a choice. Being a real estate agent wasn't an ultimatum made by the family. But she always felt it was her calling. "I kept getting into trouble in school because we'd do career projects on what we wanted to do for a living and I would always say, 'I want to be a real estate agent,'" says Tammy, a third-generation graduate of Olympia High School.  By the time I got into high school, my teachers told me I had to pick something else to do my career projects on.
When she headed off to college, she had a request for her dad and she got a really unexpected answer. "I said 'Dad when I get out of school I want to be a real estate agent,'" Tammy shares. "He said 'Nope. You go finish college. You go work somewhere else to build your own identity. Make sure this is something you want to do.'"
So, Tammy went to Western Washington University and Central Washington University, majoring in marketing and purchasing management. After graduating from college, her dad gave her the same advice again.
"My advice was to build her confidence and her feet under her," he says. "I asked her to do something similar to what I did because it helped me a lot. I said, 'Pretend I'm not here and you go find your own way.'"
She did just that and worked for a large retail company and later an aeronautical business in Montana.  Tammy made a move to California where she just couldn't wait any longer and got her real estate license not far from Sacramento.  She returned to Olympia in 2010, ready to work at the business she grew up watching her Grandfather and Dad grow.  Excited and nervous, since now she had big shoes to fill.
For Tammy, coming to her family's real estate agency was like reconnecting with her childhood memories.  Where she was often the tagalong with her Dad and Grandfather, now she was creating her path.
"She'd be more of a benefit to the office if she had worked someplace else first," Dennis explains. "Rather than just coming directly from school to the office."
His mission was accomplished. Both father and daughter found their dream jobs back where they started with the family business. They'd make it a third-generation family project and it's a decision neither has ever regretted.
There are lots of fond memories Tammy enjoys.
"Even when I was a little kid I was there because Dad and Grandpa drug me around every place with them," Tammy recalls with a smile. There were the times she'd get to ride on the bulldozer with her grandpa, clearing the properties.  "We (my sister Trisha and I) got drug around on weekends," Tammy adds. "We always heard Dad on the phone, selling real estate. Often sitting on a bulldozer with Grandpa, working on the next development and always walking property."
She remembers getting paid as a little girl for counting trees at McAllister Park and Hollywoods. "It was fun," Tammy says.  Our family has done over 30 developments around Thurston County.  Every neighborhood has a memory embedded in Dennis, Tammy and Trisha's memory.
Virgil Adams Real Estate: A Short History
Back in the 1960s, Virgil quit his job as secretary of the Olympia School Board and started developing housing projects.
In 1953, Virgil developed the first subdivision at 28-years-old. His first subdivision was Forest Hills, south of town. The man who grew up on a farm on Delphi Road would help develop the city. "He saw an opportunity," Dennis explains.
Virgil retired in 1984, Dennis bought the business and took over. In 1992, Virgil died of cancer at 67- years-old. "Once in a while he smiles and laughs at me I think," Dennis says with a smile. "Now, I'm getting towards the end of my career, so next is the third generation coming up."
Virgil's son and granddaughter are continuing that rich legacy with the real estate agency that still carries Virgil's name. After Virgil retired, he asked his son to change the name of the company to Adams Real Estate. Dennis complied and six months later changed the name back. "There were just too many complaints," Dennis says with a chuckle. People wanted to still see the original owner's name.
"It also shows our history," he adds. "'Our integrity is your security' is still our slogan."
The name and the commitment to good service continues.
For more information, visit the Virgil Adams Real Estate website.
Sponsored