Imagine the power is out and all cell service is unavailable. The road out of your neighborhood is impassible. Your neighbors are in exactly the same situation. You will be homebound for two weeks. How would you fare?

Jubilee, the 55+ active lifestyle community in northeast Lacey, engages skilled volunteers to train and organize their neighborhoods when an emergency occurs. Jubilee residents Teresa Garrett-Hill and Kathryn Reith are co-chairs of EPIC, Emergency Preparedness Interest Council. Their year-round activities raise awareness and preparedness as they engage their neighbors for possible emergency situations.
When Jubilee started construction in 2004, most services were at a significant distance. "It's far out," Garrett-Hill said. With 1,100 homes, the importance of being able to provide immediate first aid was clear. "We could be on our own for a while," added Reith. Their committee was formed to answer the question, "What can we do to support each other?" It's helpful to know who has what skills and which supplies are available. Who has a chain saw? A generator? Where does the firefighter live? These are good to know ahead of the emergency.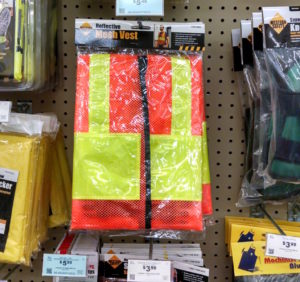 Garrett-Hill and Reith work with residents in personal preparation needs and then provide organization for the ways the neighbors gather and sort out tasks. Teams are formed and then follow written instructions. Many of these steps sound obvious when reading them on a sunny, calm afternoon. Life looks differently in the middle of a freezing, stormy night when the power is off.
Everyone gets a copy of Map Your Neighborhood (MYN), a booklet from Washington State Emergency Management. The information guides you along nine clear steps for immediate action following a disaster. Garrett-Hill and Reith coach residents on gathering personal supplies. The first things you need are to be stored right under your bed. This is where you keep a pair of pants and socks, a sweatshirt, gloves and shoes to protect from glass or other sharp objects, and a hardhat or bike helmet to protect from falling debris. A working flashlight is critical. You'll also have your copy of MYN, to remind you of what to do next. Once you are dressed, you can attend to the care of your loved ones in your home. Then you can gather with your neighbors.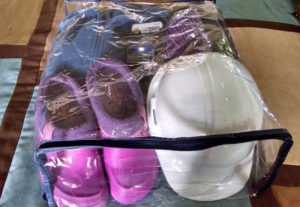 Jubilee's EPIC committee gets each neighborhood group together. This is no small job. The community consists of 11 villages, making up 71 blocks. Each block has a captain or co-captains who assemble their neighbors in teams to perform various tasks. One team will handle communications including listening to the Emergency Alert System (AM/FM radio) or to a NOAA weather radio. Seven ham radio operators have been identified that live in Jubilee. In the past year, the committee added two-way radios for better communication. Another team will check on the neighbors who are elderly or have a disability. One team makes sure that propane and gas tanks are shut off. The fourth team checks each house for the "HELP" or "OK" sign. This is the last page of your MYN booklet. The window sign provides quick visual information for a status report of those inside the home.
Garrett-Hill is also a CERT (Community Emergency Response Team) leader. Extra training is required for this certification and classes are held at Jubilee for residents. CERT educates volunteers to cope with various hazards in an emergency such as fire suppression, light search and rescue as well as disaster medical operations. On-site refresher classes are offered monthly.
Some residents of Jubilee travel extensively and others work. The EPIC committee realized that an incident could happen when one or more captains were away – either out of town or out of the immediate area. Now each block has its own big, waterproof folder filled with everything needed to get the team set up and working. There are clipboards, instructions and a turn-off wrench. The packet stays in an agreed-upon outdoor location, so that the first person to arrive at the gathering site can get things going. The EPIC team also organizes events such as trading post day where vendors come with emergency supplies for sale. They have also designed a 24-week program to gently acquire your disaster kit over time to avoid being overwhelmed. They'll help you remember things like pet food and instant coffee.
Emergency preparedness is insurance. In the present moment, it seems like something that can be taken care of tomorrow. However, when the unexpected or quickly developing need arises, it is too late to prepare. Let's call being ready for emergencies assurance rather than insurance.
I like to be smart. I've upped my preparedness game since I met with Garrett-Hill and Reith. I'm meeting with my immediate neighbors over a glass of wine to talk about all this. You'll find my zipped bag of clothes and first needs under my bed. I bought an LED headlight at Harbor Freight for just a few dollars. I've started gathering non-perishable food items in my garage, including a couple of jugs of water. There's an extra bag of charcoal briquettes for our barbeque grill. I'm thinking the hot tub will keep warm for a while, which would be nice. I'd be happy to invite you over when power zapping/tree smashing/earthquake happens, but my phone won't be working. Two weeks is a long time. Take care.