The Olympia Film Society is announcing their first ever "Drama on the Dance Floor" 80's themed fundraiser event on Saturday, June 30 at the Capitol Theater, featuring live music from local cover band The Aqua-Nets.

The all-ages show promises to be a blast from the past, with a photo booth, raffle prizes, drinks for adults, and an 80's dance and costume party (shoulder pads and high-waisted jeans are highly encouraged).
The Aqua-Nets are self-described as "the most energetic cover band in the Northwest," providing a show that features a diverse professionally performed mix of your favorite 80's to 2000's rock, pop and dance music.
But lead drummer and founder of the group Chris Cullen didn't always play in a cover band. In fact, the self-described "metal head" hardly ever listened to pop music. Growing up in Olympia as one of seven kids, Chris began playing music when he was 15-years-old, playing original music in different bands for most of his life. And while performing didn't always take center stage in his life, Chris's deep love of music and education continued to be an integral thread that led him to where he is today.
"I went off and on playing music, taking long breaks at times as it was hard to find musicians doing similar stuff," he says.
It wasn't until four years ago, a fateful Craigslist ad seeking like-minded musicians would be discovered by his future band mates. Chris's post was quickly answered by two Olympia musicians and husband and wife duo, Brian and Gretchen Lemon, and the rest, as they say, "Is musical magic history."
The group has since morphed into a band of three married couples, Dennis and Marta Kapoyos from Washington D.C. along with Chris's wife, Karen Mahardy, from Issaquah.  "We are truly family," says Lemon. "We're all best friends and we have so much fun playing together."
While the group specializes in 80's hits, Chris says their musical inventory stretches from 1970-2018 and they've catalogued over 7.5 hours of music.
"Instead of going out to the movies, we go play gigs," Chris says. ""I am lucky because I play in a band with a great bunch of people and really great musicians. We do it for fun but we put a lot of work into making the songs sound good."
Chris says his whole family is pitching in to try and make the June 30 fundraiser a huge success and hopefully an annual event. Fellow Olympia-based band members will also have family coming out for support.
And if the night couldn't get any more sentimental, Chris's biggest wish is to finally play a show in a local venue that allows his elderly parents to come out and finally see their son perform.
"My parents were so supportive and tolerant of me as a drummer (and that says a lot)," he says, "yet for one reason or another they never got to see me play. I recognize they're getting older and I just want them to be able to come to a show with music I think they'd enjoy."
All proceeds from the show will go towards the Olympia Film Society (OFS) and preserving the historic Capitol Theater, which has served as an artistic hub for the arts in Olympia since its beginnings as a vaudeville stage in 1924. The theater continues to serve as a space where the Olympia community can gather in order to connect, empower, and support the arts.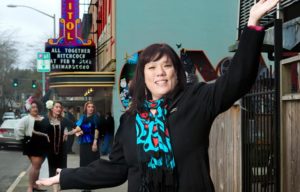 Audrey Henley has been the OFS executive director since 2014, but she and Chris go back years to when they were both working in the Seattle music scene. They reconnected recently and both came up with the idea to combine their current passions into one night of great live music to support the Olympia Film Society.
"We want to raise as much money as possible for OFS and the Capitol Theater," Chris says. "It's a great organization and they're doing what they can. Anyone who works in the arts knows the struggle and we have to support each other."
When asked why people should come out to support music and the arts, Gretchen poses another question, "what would your world be like without it?"
"We are so excited to play this show," Gretchen adds. "It should be a huge fun party where folks can dress up and have a fun night out and dance until they drop."
Doors open at 7:00 p.m., show starts at 8:00 p.m. Tickets are $20 with all proceeds benefiting the Olympia Film Society. To buy tickets online, click here.
For more information on the band, visit the The Aqua-Nets website.
For event information, visit the OFS event page, or keep up with the Aqua-Nets on their Facebook page.