A recent visit to the Olympia Farmers Market resulted in a powerful shift propelling me along my quest for optimal health. I met Shari Trnka. She's a talented clothier using high quality, natural fibers such as cashmere, cotton, silk and wool. All the materials are upcycled to create textiles with style. Every piece is one-of-a-kind. Many of the tops, dresses and skirts are artsy and fun, and they are wonderful to touch. Shari pointed out that she also makes classically styled pieces and is always happy to customize a pattern for your size and taste. As we talked clothes, the two of us fell into a conversation about Slow Food and Slow Clothes. During our visit a new realization dawned for me. It was the clothes/food connection.
Food ethics are not new to me. I carry a reusable cup, purchase an annual CSA and make my own lunch. I eat responsibly, usually knowing where most of my food originated. However, there was a missing link. I was unaware that with every load of clothes washed, a significant amount of microfibers enters the water supply. The lint trap collects some, but measurable amounts of synthetic fibers end up in the ocean.
The magnitude of this cycle is huge. In plain terms, the salmon on my dinner plate has ingested bits of my fleece jacket in its body. The clothes I wear factor into the health of the planet.
This was sobering for me. I felt compelled to change some of my behaviors. I don't have to throw away my current wardrobe, which would be wasteful, but I can make new choices going forward. When I'm ready to add to my closet, I can shop for natural fibers, refashioned and/or recirculating clothes. Shari told me that her mission was to create opportunities to educate people about the clothes they buy and wear. The shoppers of the market provide an excellent audience. I'm glad I am one of them.
The movement to reuse, recycle, reclaim and rejoice is well served by inventive, artistic people like Shari Trnka. Browse her racks of fabric treasures. There are pieces for adults and children.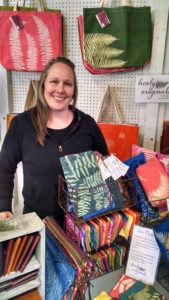 Amy Healy of Healy Originals is also an artistic textile creator & designer.  Amy's work features sun prints on organic cotton fabric as well as unique imprints on vegetable tanned leather. Totes, pouches and accessories feature Pacific Northwest botanicals, resulting in stunning patterns and designs that are truly one-of-a-kind! Each print is cut, sewn and meticulously finished by Amy in Olympia, WA. Peruse her wall of reusable bags refashioned from bags of animal feed and coffee sacks. A trip to our beloved downtown Market does a body good.
For more information, visit the Olympia Farmers Market website.
Eat Well – Be Well
Sponsored