The Yelm High School fastpitch team had just seen its hopes of a 3A state championship dashed for the second consecutive year by Redmond. But unlike last year when the Mustangs knocked off the Tornados in the title game, this one occurred in the first round.
Yelm's back was against the wall.
Tornados head coach Lindsay Walton, however, had a very direct message to her squad moments after their disappointing first-round loss at the Class 3A state tournament. One each player took to heart.
"I said, 'Ladies we don't quit now. It hurts losing that first one, but this team doesn't quit,'" Walton said. "I told them they could still get third place and that is amazing."
Yelm went out and did just that, shaking off its opening round defeat to win five consecutive games to claim third place at the Regional Athletic Center in Lacey on May 26.
The Tornados finished the season with a record of 30-3, winning four straight loser-out games to claim a state trophy for a second straight season. The team finished second at last year's state tournament, losing, 9-5, to Redmond in the title game.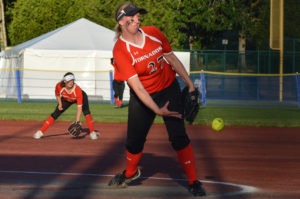 Bonney Lake, a team Yelm defeated, 2-0, during the regular season, defeated Snohomish, 8-5, in 11 innings to win the 3A state championship.
After falling to the Mustangs, 3-0, in the first round Yelm was finally able to exact some revenge in the placing round, defeating Redmond, 6-5, in the rematch.
"It was a long day," said Walton, who has guided the Tornados to a 58-4 record over the past two seasons, "but I am super proud of the girls and how they stuck with it."
The win over the Mustangs marked the final high school game for seniors Kayla Dragt, Jaeden Ells, Sage Ferrell, Drea Schwaier and Adrianna Viveros. The group posted a four-year varsity record of 102-22 with 12 of their losses coming during their freshmen campaigns.
In addition to placing among the top 3 in each of the last two seasons, the seniors also won three consecutive conference championships, a district title and advanced to the state tournament in each of their four years to cap the best four-year window in program history.
Schwaier, who will pitch next year at Whitworth University, notched the final win on the season and drove in a run against Redmond (27-3) in the rematch. The Tornados also received a two-run double from Ferrell and a two-run single from junior Tayelyn Cutler in the victory.
The offensive outburst was the polar opposite of what Yelm produced during the team's 3-0 loss to Redmond in the first round.
Schwaier was masterful on the mound, registering 12 strikeouts while holding the Mustangs' offense to under four runs for just the second time this season.
However, the Tornados were unable to get anything going with their bats until the seventh inning when they loaded the bases with two outs, but ultimately failed to score.
"Obviously, game one didn't go the way we wanted it to," Walton said. "It was a tough game. It was close. We just couldn't get our offense going. The seventh inning is just too late to get anything going. We did a great job. We just didn't back up our pitchers offensively."
Faced with seeing their season end after just two games at the state tournament, Yelm began its quest through the loser's bracket against Pierce County League runner-up Stadium.
"I just wanted them to go out and play our game," Walton said about her team facing the possibility of suffering an early exit at state this year. "I wanted them to have some fun. That was the most important thing."
Schwaier fanned 11 Tigers in the Tornados' 4-0 shutout win over Stadium to keep their season going.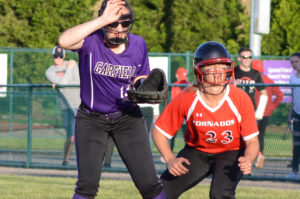 They followed up that victory with a thrilling 5-2 win over Metro League champion Garfield (24-4). The win was highlighted by a Ferrell single in the fifth which scored three runs, including Ferrell, due to a Bulldogs' error.
Despite not practicing for the entire week leading up to the state tournament due to a dislocated left shoulder, Ferrell would later add a double in the seventh.
"It really is amazing what she did. She dislocated her shoulder on a swing last Saturday and hadn't picked up a bat until today," Walton said. "I give a lot of props to our fantastic trainer Elishia Jackson."
Yelm continued its climb towards the placing round by defeating Bainbridge, 5-1, in a game highlighted by a Calli Jesmer home run and a two-hit effort from Ferrell, and with a 3-2 win over Mount Spokane, which saw Jesmer collect her second home run at the tournament and Schwaier add a two-run single.