A smile is contagious and can boost your immune system. Smiling relaxes the body and can improve your physical health. Simple right? Unless you are one of the 120 million Americans that are missing teeth. Missing teeth can make smiling uncomfortable for people that don't want others to notice that their smile is not fully intact. According to the American College of Prosthodontists more than 36 million Americans have no teeth at all. While dental health awareness has improved over the years, there are still many people that do not have a full set of healthy teeth. Gum disease and tooth erosion are just a couple of the reasons that younger people may be missing teeth. Teeth are subject to daily wear and tear and older Americans may have teeth that have simply worn down.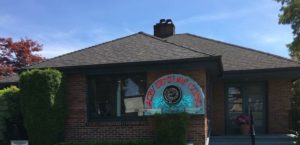 No one should feel forced to hide their smile, and thankfully our community has Lacey Denture Clinic to help keep residents smiling. Denise Myers works for Dr. Kurt Toolson at Lacey Denture Clinic and says she does a little of everything in the office. She began her career as a dental assistant and then became the office manager. Myers is the first face you see when you walk in the office and she makes it her priority to make patients feel comfortable from the moment they enter. "What we hear most about our staff is that we are so friendly and kind," shares Myers.
Many patients are anxious about coming into the dentist and shy about the condition of their teeth. Myers wants patients to know that they are not alone and the professionals at Lacey Denture Clinic understand their feelings and are ready to help.
Lacey Denture Clinic serves patients of all ages. Younger patients in their 20s and 30s may have been in an accident or suffered trauma. Periodontal disease can weaken gum structure and damage teeth requiring dentures at any age. Of course, the majority of patients are older and their teeth have worn down with age. "We have patients in their 90s," shares Myers. You are never too old or too young to consider improving your smile.
"Patients have often waited a long time before coming in to see us," shares Myers. "Some are anxious about seeing a dentist in general, while others are unsure about costs."
An Immediate Smile
Another big factor in the delay is that patients are concerned about having damaged teeth removed for dentures. "People don't realize that we can do extractions and fit them for dentures on the very same day," explains Myers. Immediate dentures are made ahead of time so that when the patient comes in for surgical extraction of their teeth, the dentures are ready to be placed immediately.
During the initial consultation, the patient will have an x-ray of their mouth. The staff will also take an impression of their mouth and do a wax bite. These are all done to ready the initial set of dentures so when the patient has their extractions they can immediately be fitted with teeth. This initial set of dentures will stay in place for six months during which time some natural shrinking of the gums will occur. At the end of the six months, Dr. Toolson will evaluate how the dentures are fitting in the patient's mouth. After this evaluation, the dentures will either be remade to fit more comfortably or the liner will be adjusted depending on what changes have occurred in the mouth.
"Much depends on the condition of the mouth and how many teeth have been extracted," explains Myers. If the patient is wearing a partial denture and has had less than seven teeth removed they may not require a new denture. Patients with more missing teeth will likely require a second set. The comfort of the patient is their number one concern. "Most people are surprised by how comfortable they are in their new dentures," shares Myers. "Dentures have gotten a bad rap in the past but they have made great strides in the industry over the years."
Dentures can often be implanted which ensures that they are extremely secure and feel essentially like your own teeth. The dentist will make a determination about the possibility of implants based on his examination and the condition of the bone.
There are teeth for every budget in today's denture market. The teeth are made of an acrylic material that looks just like real teeth. "We have economy to premium teeth to accommodate different budgets and situations," shares Myers. Dentures can last decades and a premium tooth has a lifetime warranty. Her favorite part of her job is seeing the patients after they get their new dentures. "When we hand them the mirror, we can see the joy in their eyes," she shares. "Many of them will tear up because they have been hiding their teeth for so long."
If you are hiding your smile, or have been afraid of visiting the dentist to talk about dentures, call Lacey Denture Clinic today. They are waiting for your call and can't wait to show you your new smile in the mirror! For more information or to make an appointment call -360-491-0804 today.
Lacey Denture Clinic
3925 Pacific Avenue SE, Lacey
360-491-0804
Sponsored