As the Olympia Symphony Orchestra's 65th season comes to a close, it's time to reflect on the successes of the 2017/2018 season and build excitement on what's to come at the annual Celebrate the Symphony fundraiser.
This year's gala and auction, Celebrate the Symphony: Come to the Cabaret!, will take place on Saturday, June 2 beginning at 5:30 p.m. (Tickets are $135 per person and can be purchased here.)
Guests will be greeted with live jazz music from the Oly Chamber Brass quintet and complimentary food and wine. Prior to the dinner and live auction, raffle tickets will be sold for a chance to win a very special piece of jewelry from Panowicz Jewelers. The unique and surprising decor is surely not to be missed at this unforgettable evening, as well as the cabaret entertainment at the end of the night provided by Seattle-based Dorothy's Piano Bar and Cabaret.
Executive Director Jennifer Hermann says aside from encouraging community involvement and support by attending this year's gala, the night is an opportunity for people to get more personally connected with Olympia Symphony Orchestra's mission to provide the highest quality live music to enrich, educate and entertain an expanding audience.
"This night really allows attendees to hear highlights about our accomplishments and hear about some of our initiatives for the upcoming year," Hermann says. "This is a chance for people to learn more about our community involvement as well as provide an opportunity to support the symphony."
The festive cabaret-themed evening promises a night of class and fun and features a spectacular list of one-of-a-kind auction items and experiences, one of those being an original, personalized three-minute music composition by Austin Schlichting. "This would be a great gift for someone wanting to commemorate a special event like an anniversary or birthday, or to dedicate the piece to a loved one," Hermann says. "The composer will work with the winner to find the vision and idea for the piece and the symphony will perform it during the upcoming season."
Another favorite annual auction item is the opportunity to conduct the Olympia Symphony for Sousa's "The Stars & Stripes Forever" at the Concert at the Capitol on July 29, 2018. The winner of this item will receive a baton and two conducting lessons from Maestro Huw Edwards.
Other exciting auction items include original artwork by local artist Debra Van Tuinen, a private dinner with Congressional Senator Maria Cantwell, a backstage tour of KING FM radio, a round of golf and appetizers with drinks hosted by Maestro Huw Edwards, a birdwatching trip on the Nisqually Delta and more!
Gala Chair Marta Fowler says the annual gala is the biggest fundraising event of the year and wants to remind music lovers of the community how important events like Celebrate the Symphony are to keeping the curtains open year after year.
"Sixty-five years is a long time, and slowly the Olympia symphony has grown into a world class orchestra, many thanks to the generous support of the community and hard work of Maestro Edwards and the musicians," Fowler says. "Maintaining a symphony orchestra of high caliber is expensive, and the orchestra relies on community support to stay afloat. The money we raise keeps the violins playing, so to speak."
Fowler encourages attendees to get into the cabaret theme and dress up in accordance with this year's colors – sapphire, red, white and black. Men are encouraged to wear a crazy tie or hat, and ladies, this might be the night to break out the sequins.
"We want it to be a lot of fun, we want to make money, and we want to emphasize why the symphony is so special," Fowler says. "As long as people can show up and support the arts, we can continue providing quality music and experiences to the community."
The symphony's upcoming 66th season, Highways & Byways, will commence on October 14, 2018. Season tickets are available for sale now.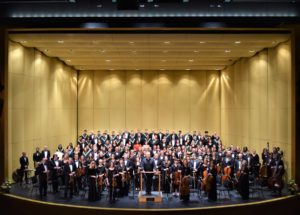 Call the OSO office at 360-753-0074 to RSVP and reserve your tickets by May 31!
"Come to the Cabaret" Gala & Auction event website.
Facebook event information can be found here.
Donate to the Olympia Symphony Orchestra here.
On Wednesday, May 30, Pizzeria La Gitana will donate 20% of their proceeds to the Olympia Symphony! Simply visit their Olympia location (518 Capitol Way S, Olympia WA, 98501) between 11:30 am – 9:00 pm and tell your server you are supporting the Olympia Symphony. Call 360-753-2929 for reservations.
Sponsored