As she steps onto the field, she feels a sense of familiarity and comfort. Growing up, she either had a soccer ball at her feet or in her hands. Her parents being athletes, they always encouraged her to find her own sport. She tried basketball and other sports, but she always came back to soccer, or football as it's called in Europe. Once she found her passion, she was committed to having soccer be a big part of her life. In sixth grade, she transitioned from recreational soccer, to club soccer (a year-round soccer team) and never looked back.
Sydney Wilson, a senior and athlete at Capital High School, said she's played varsity soccer at CHS for the past four years, and for a club team outside of school as well. She explains one of the many reasons she loves soccer is because of its creativity – it has been a way for her to express herself.
Those who are not athletes may not fully understand how a sport could be creative, but soccer is unique and different in the sense that it leaves the creativity up to the player. Although, it is a team sport, there are many individual aspects to it. There's a player's footwork, that includes different techniques and moves. And of course, simple passing and shooting. All these different aspects are up to the player to decide, and they're why Wilson enjoys playing. "If you've been around soccer," Wilson says, "it's beautiful to watch because you can do all these different things. It's just the creative aspect draws me in."
Wilson explains, "Soccer's given me many amazing opportunities, getting to travel around the country, getting to play in different showcases and tournaments." She explains one her favorite opportunities was traveling to Sweden and Denmark in the seventh grade to play in the biggest soccer tournament in the world. With every opportunity, her parents and grandparents have been very supportive. Family support is a must for club soccer due to the expense and travel requirements. She says she always has someone watching at her games.
Next year, Wilson is excited take her soccer skills to the college level, playing for Western Oregon University. She says, "Obviously there's a lot of stress that comes with college, but I'll immediately be put with a group of girls that I have a lot in common with…it's going to be nice to be on a similar schedule and be able to work with them. I'm excited to get next-level coaching as well."
As for the future, she wants to double major in psychology and exercise science, while keeping soccer in her life in some form. Whether it's playing recreational soccer with friends after college, or coaching a kids team in the future, it's something she wants to continue with.
However, there is a lot more to Wilson than soccer. One thing in particular is her love for helping people – something she carries with her both at school and away from school.
At school, her favorite classes have been sports medicine, human anatomy and helping kids with their P.E class, SOAP (special needs P.E class). Outside of school, she works with the Thurston County Special Olympics and coaches a soccer team. This is something she's really enjoyed doing for the last two years. Wilson describes the impact of working with special needs kids and believes it has had a positive effect on her. She says their positive attitude has helped her put things into perspective more.
"They'll have something going on in their life that I could never completely understand," she explains, "but they'll always have a smile on their faces every day."
This year, Wilson also helped set up Capital High School's Pack the Gym, which is an event held every year to help raise money and watch the Thurston County Special Olympics basketball team. Despite the impending changes in Wilson's life, she wants to continue it in the future.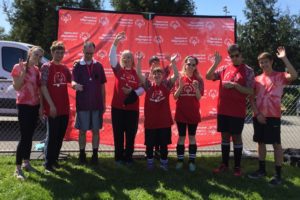 Despite her busy schedule, Wilson has also been involved in band for the past four years at CHS. Since being in band, she's had the same teacher, Dan Lundberg. Wilson describes herself as shy from a young age. Lundberg has helped her become more outgoing. She explains, "I was super shy coming into high school, and he's really helped me grow, and helped me feel more comfortable being myself and made it simpler…helped me not to over complicate things."
Sydney's involvement in variety of different things and being a student athlete keeps her schedule busy. But she says she enjoys being active and involved in her community. She states that in order to stay on top of school and extracurricular, "I've learned to become good at doing homework in the car. Time management is a really big thing…it's helped me stay focused for sure."
She hopes students coming into high school next year will become involved at school, so they find their passion like she's found hers.