The 31st YMCA Spring Run presented by WSECU is approaching faster than a sprinter racing towards the finish line. The annual event hosts a 10K, 2 Mile and Kids' Run on the morning of May 5, rain or shine.
"Healthy lifestyles are a mission of the Y," says Jake Grater, Executive Director Branch Operations for the South Sound Y. This is why the YMCA puts on the run year after year, to provide a fun opportunity for families, friends and coworkers to get out and do something fun and healthy together.
The run began as a way for state agency employees to get together, have fun and support healthy lifestyles and the tradition continues with a public agency challenge. Agencies and their employees, including retirees and family members can compete to win in three categories: team participation, team spirit and team speed. The team spirit award is a favorite that rewards creativity and encourages teams to showcase their enthusiasm.
All participants of the 10K and 2 Mile runs will receive a T-shirt courtesy of Spin Tees. The runs will use chip timing, and participants that want to compete in age group and overall recognition or want their official time need to pick up a timing chip prior to the race start. Chip Pickup is from 7:30 a.m. to 8:30 a.m. on race day.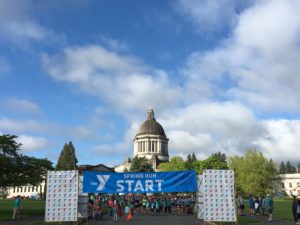 The Engineered Software Kids' Run starts first, at 8:30 a.m. followed by the 10K at 8:55 a.m. and the 2 Mile at 9:00 a.m. Participants may walk or run the race at their own pace.
All races start and end on the Capitol campus. The 2 mile run weaves through the adjoining Historical South Capitol Neighborhood before a slight downhill straightaway along Capitol Way to the finish line. The 10K course makes its way down and around Capitol Lake with stunning views into Tumwater before returning through the adjoining neighborhoods to the capitol grounds. The 10K has two water stations, at approximately the 4K and 7K marks. The Engineered Software Kids' Run is a half mile untimed run.
The runs will start in three waves, a competitive group, a novice group, and a casual group that includes new runners, walkers and those with strollers. This will provide the best experience for all entrants.
Team coordinators that have signed up 20 or more participants will receive a certificate for a free pair of shoes courtesy of South Sound Running. This year they plan to give away 30 to 40 pairs quality running shoes. While the deadline to sign up for the free shoes has passed, Grater urges run teams to keep it in mind for the 2019 run. It will be here before you know it!
For the South Sound Y, this run does more than encourage healthy lifestyles amongst the community. It is an opportunity to fundraise for one of the many community outreach programs they offer. Power Scholars, Y Care, and Livestrong are just a few of the programs which benefit the South Sound Y's charitable mission. Combined with the South Sound YMCA's Annual Campaign, fundraising last year raised over $652,000.
The new Plum Street Y is slated to open June 1. At the Spring Run presented by WSECU, the Y will have a presale for Plum Street membership. This will be the first opportunity that members of the community will have to purchase a new membership to the Plum Street location.
In addition to the run, there will be lots of other activities including fun for kids such as games and face painting. Providence Health & Services will present a health row which will offer blood pressure checks and healthy snacks. Russel Chiropractic will be on-site offering free massages. And the Guava Jam Band will play from 7:30 a.m. to 10:30 a.m.
Many businesses come together to make this event one to remember. WSECU returns as this year's title sponsor. Major contributors include Providence Health & Services, South Sound Running, and Spin Tees. Mixx96, Engineered Software, Olympia Pediatric Dentistry also support the event. These business see the value that healthy activities, like the Spring Run, add to the local community and many of the sponsors return to help year after year.
The deadline to register for the YMCA Spring Run presented by WSECU is fast approaching, so don't miss your chance! Registration can be done in person at the Briggs YMCA, online or by mail. Participants registering for the 10K or 2 Mile course will pay $31 each and $10 for participation in the Engineered Software Kids' Run. Registration after April 25 will incur a $5 late fee. Register today!
Sponsored