At its core, the MOMS Club of Yelm is a support group for stay-at-home mothers. There, they can find advice, information and community that often blossoms into friendships. That has certainly been the case for current club President Monica Forrest and Past-President Rachel Crabtree. The two women work closely together, planning events for the group and have become close friends.
The group also offers fun outings geared towards both moms and kids, playdates, activities and outreach through fundraising and community service projects. The Yelm Chapter of MOMS Club is very inclusive and diverse. Their members range widely in age and backgrounds, and all are welcome. "Because we are near a military base, we have members from many different countries," Rachel explains. "Right now we have members from the Philippines, Russia, Guam, and Italy." Their membership meetings are held at the First Baptist Church, but the group has no religious affiliation. Many activities are held in Yelm and the surrounding area and at member's homes. Realizing that not everyone's spouse is on a nine-to-five schedule, the Yelm group offers evenings gatherings too. This can be especially appealing to moms who have spouses who work night shifts or are deployed. These Hoot-N-Howl gatherings provide a much needed evening diversion.
"We aren't just moms," Rachel points out. "One hundred percent of our members have had careers, like teachers, nurses, lawyers, and I am a physician, and Monica a cosmetologist." Members with such wide-ranging experience means they have tremendous resources to draw from.
The connections to other moms and their combined experience can be especially helpful for new mothers and women who recently moved to the area. Back in 2015, Rachel was one of those new moms, and had also just moved to Yelm. Concerned about her son's development, Rachel turned to South Sound Parent-to-Parent for advice. They recommended she look into the Yelm MOMS Club to provide interaction with other moms and kids. She has been an active member ever since.
Monica joined MOMS Club four years ago starting in Yelm. Then she moved to Lacey and joined that group. After a year she and her wife decided to move back to Yelm. Monica has stronger ties to the Yelm community, but she has been able to share some ideas from the Lacey group, like doing book drives for the South Sound Reading Foundation. The Yelm MOMS gathered 437 books during their first book drive. This year they donated over a hundred.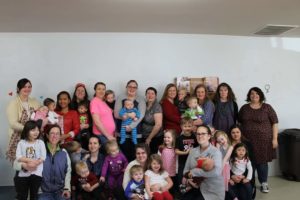 The MOMS Club is an international organization with chapters all over the world. The club provides a framework for its chapters, but each group decides the type and number activities and service projects they'll do. The Yelm club plans activities at least a month in advance. Members and leaders offer to host crafts, stroller strides, holiday parties and park clean-ups. All these go on their calendars along with the regular meet-n-greets, which are open to non-members interested in joining, mom's nights out and more. What the club offers is very fluid depending on who is active at the time and where the members' needs and interests lie.
This spring the women are planning a garage sale to benefit a new community garden in Yelm. They are also looking ahead to the big Prairie Days celebration and parade. Members plan to walk in the parade and hand out candy like many others, however they are also planning something unique with mothers. They are working on providing a booth with a sheltered nursing station. This is another example of how these ladies support one another, and their community, by striving to meet the needs of mothers and their kids.
The group holds monthly membership meetings at the First Baptist Church in Yelm to which they invite guest speakers. Recent speakers include an aesthetician, a doula, a midwife and a health and nutrition specialist.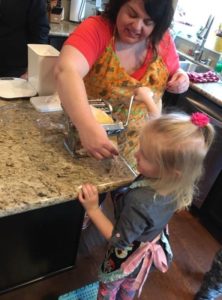 Rachel spent several years in Italy and shares the culinary skills she learned there by offering Bambini Pasta Classes for the kids. Her classes often inspire the moms to go out and buy pasta makers of their own. Monica recently hosted a potluck Valentine's Day party and held a mom's night out with canvas painting and served chili and wine. The list of activities is long and members can pick and choose which ones they want to attend that work into their schedules.
The club communicates mostly through their private Facebook group, listing events, meetings, fun ice-breaker questions and even items for sale. They have a public Facebook page where they share some of their projects and activities, so prospective members can learn about the club.
Becoming a member is easy, just contact the club or go to one of their Meet-N-Greets. There is a yearly membership fee.