A young, bright and bubbly face in the Toyota of Olympia's service department is waiting to greet you for your next service. And, that face may look familiar. That's because Dani Babcock is not new to Toyota, just new to the service department. Since February 2017 this energetic millennial has been spreading her enthusiasm throughout Toyota. While searching for a career, she found it to be the perfect place for her to grow.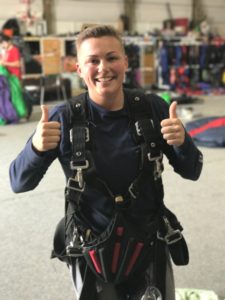 Like a lot of 20-somethings, Dani has had a few jobs while she figured out what she wanted to do as a career. She originally was leaning toward law enforcement, but needed a job in the interim. Her roommate, who worked for Toyota of Olympia, suggested she apply. "I started out as a greeter in the service drive," she says. It's easy to see why this job was a perfect fit. Dani has a contagious smile and a personality that makes you feel welcome. "They said, 'All we want you to do is greet cars and make sure they have a good experience.' It was a lot of fun."
Dani quickly learned what other team members at Toyota already knew – this is a place that fosters aspirations and growth. "Fred, the service manager, came to me and asked me what I wanted to do with my life and where I wanted to go," she explains. "I told him I was thinking of being a police officer and his response was 'You have the exact values that we try to encompass at Toyota.' He wanted me to stay, but I had worked hard to become a police officer so I wasn't sure."
When the call did come for a job at a corrections facility, Dani learned it would be an on-call job. It wasn't the steady career she had been hoping for. Like many her age, she has rent, student loans and other bills that require a steady paycheck. Dani decided to talk to Joe McCorkle, general manager at Toyota of Olympia. "He is the coolest boss ever," she says. "He is so down to earth. He has a charisma, something about him, that makes him so easy to talk to. I can connect with him. Usually with bosses I am nervous. But with him, I feel comfortable enough to go and talk to him about my job and where I am headed. And, he is genuinely interested in me and my life. He told me not to make a decision just based on a paycheck, but he wanted to make sure it was the right decision for me and my interests."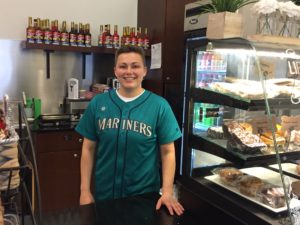 Dani confesses she never thought she'd be working at a car dealership, says she loves it. Dani's positive attitude makes her an asset for Toyota – she shines no matter what department she is in. "Joe asked me to cover in the café for a couple months, so I learned how to make coffee," she says. "That was fun, too."
From there, she worked as valet manager at the new Tumwater location when it opened and then was moved into service, where Sam Ellis jokingly calls her "the New Sam," as he moves from service into sales. Dani has also job shadowed in the business development center and with the inventory manager, giving her a well-rounded understanding of how the entire dealership works.
Dani Babcock's Favorite Things:
Favorite Toyota model: Tacoma
Favorite local drive: Driving down the 101 towards Hoodsport
Favorite car-themed movie: "Vacation"
Favorite car snack: Sunflower seeds
Service is her favorite.
"I love talking to people," she says. "I have no problem sparking up a conversation with a stranger. I really love taking care of the customer, offering customer service inside the service department."
Like many team members at Toyota, Dani looks for opportunities to go above and beyond. Recently a woman was dropped off by her husband to pick up her car from service. "I walked her to her car and I noticed she was almost in tears," Dani shares. It turned out she had only been in the country for two years, did not drive often and didn't know how to get home. On top of that, her car needed gas and she didn't know how to fill it.
Dani went to the manager on duty to share the situation. Dani drove the woman's car to the gas station and showed her how to pump gas. Then, the Toyota of Olympia shuttle drove her home, while Dani followed in her car. "It was great that we were able to help her out," she says.
And as for leaving, Dani doesn't really think about it anymore. "It's super cliché, but we really are a big family here," she says. "I have no problem asking anybody for a favor or for help. What truly makes it different from any other dealership is Joe. He is a living example of how he wants his employees to be –positive, upbeat. You never see him in a bad mood and he is ready for anything. And, that trickles down to the manager and employees. The culture is a lot different than I ever could have imagined."
Sponsored