Over the last 80 years, and probably even longer, people in and around Rochester have helped friends and neighbors who have experienced traumatic events by holding spaghetti feed fundraisers at Swede Hall. Since 2014, through the work of the nonprofit association, Rochester Friends and Neighbors (RFAN), assistance is just a series of text messages away. They can have a check or a gas card in the hands of those that need it in less than 24 hours.

"It's amazing the response we get," says Brian Fagernes. "We give someone $250, and you would've thought we gave them a million." The aid seems to carry special meaning for those who receive it because it is targeted to fulfill a specific need like buying a gas card so a family can drive to Seattle to visit a loved one in the hospital or to help pay for experimental cancer medication. The money is appreciated, but knowing the community contributed to those funds and is there for a person in a time of need, often has an equal or even greater impact. "It's probably 50/50," notes Todd Fagernes.
The Fagernes brothers, Brian, Todd and Mark, all remember attending spaghetti feeds throughout their childhood. When their father got sick, the community pulled together again and held one for them. After their father passed away, Todd participated in the Big Climb for Leukemia and raised money for Relay for Life. Then the brothers realized their fundraising efforts could have a much bigger impact locally. They approached Lowell Deguise, who knew how to form a 501(c)3 nonprofit. It took about a year to finish all the paperwork, and RFAN became official.
Lowell serves on the RFAN board along with Mark, Brian, Todd, Larry Ayers and Terry Ruege. The men are all Rochester High School graduates with family histories in the area that go back three and four generations with the exception of Lowell. Though after 57 years, Lowell concedes, he might be considered a local. Together they put on two events a year at Swede Hall: a fundraiser auction each March and a spaghetti social in October. "There are the six of us," says Brian, "but many more come out of the woodwork." The day of the auction about 30 people lend a hand in selling tickets and helping wherever they are needed. "There are gals who put together gift baskets and make everything look nice," explains Mark. He shrugs and adds, "If it were left up to us, we'd just spread it all out on a table."
All dispersals of funds need to be approved by the RFAN board. They rarely meet in person, but text messages circulate quickly amongst them. What is the best way to help? That is a central question each time a need arises. Often a person puts in a request for a friend or family member and knows exactly what is needed. Other times the team need to ask more questions. "It's a learning experience every time because not everyone's circumstances are the same," suggests Lowell.
There are three principles that are crucial to how the group operates: 1) RFAN has no overhead, so 100% of the donations go to those in need within the community, 2) all recipients are strictly vetted and 3) all recipients and those who notify RFAN of a need remain anonymous. Each of these criteria fit well with the mindset of the people they serve and the community that supports RFAN through donations and volunteer labor. People work hard and are eager to help others, but they often have a hard time asking for help themselves. "There are some that would rather starve to death than ask for help," says Mark.
They hold one fundraising event each March, which fills Swede Hall to capacity, and features a silent auction, live auction and raffles. That way people of any means can participate. The list of auctioned items is long and varied and has ranged from stuff you would see at any similar event like gift baskets and event tickets, to things that are particularly useful to this rural community. "We have everything from chainsaws to vouchers for septic pumping to dog neutering," laughs Todd. "One year we had a railroad crossing signal," he adds as one of the more unusual objects offered up for bid.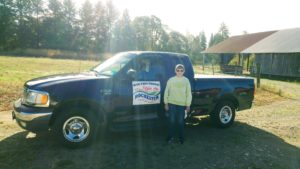 At their first auction they set a goal of earning $1,200 and in four hours they brought in $20,000. It is a testament to how supportive the community is. "If you just ask, people step up to help," notes Mark. The Rochester School District has been instrumental in helping to distribute flyers. At first the men found it awkward, walking into a business to ask for donations for the auction, but now business owners approach them year round.
They still hold a spaghetti feed each October, but it is not a fundraiser. "It's a show of appreciation for the community," assures Lowell. "It's a chance for people to meet and be social." In 2016 about 100 people came. In 2017 attendance grew to 160. There is no cost to attend although people often leave a donation. They offer door prizes and hold the drawing for the one big-ticket raffle item of the year.
Now through RFAN's proactive approach to fundraising, instead of helping after a crisis, the community can help in the midst of it. That can make a crucial difference to people experiencing a traumatic event.
They have set up the nonprofit so others can follow in their footsteps someday and continue Rochester's long tradition of helping their friends and neighbors.
"RFAN is here to stay," says Lowell.
To learn more about RFAN, visit the Rochester Friends and Neighbors (RFAN) website, or call 360-789-9143. Their next fundraiser is scheduled for March 10, 2018.