Submitted by City of Tumwater
Looking for free holiday fun for the whole family and a chance to see Santa without that harrowing drive to the North Pole?  Join Tumwater Parks & Recreation for the 15th Annual Christmas Tree Lighting Festival on Saturday, December 9, from 2:00 – 5:00 p.m. at the Tumwater Fire Station and City Hall.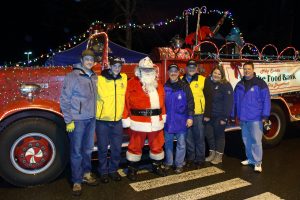 Enjoy community and school choir performances, decorate cookies and create ornaments, enter raffles to win prizes, meet Miss Thurston County 2018 Ashley Engstrom, and watch the ceremonial tree lighting. After the tree has been lit, don't miss the special visit from Santa Claus who will arrive on an antique fire truck to share some holiday cheer (and maybe a candy cane or two).
Event Schedule and Choir Line-up
2:00 p.m. – Old Town Center Senior Choir Directed by Anne Barroll
2:30 p.m. – Michael T Simmons Elementary Choir Directed by Gabi Taheri
3:00 p.m. – Sweet Adelines Directed by Melanie McGuire
3:30 p.m. – East Olympia Elementary Choir Directed by Lori Tibbetts
4:00 p.m. –  Tumwater Hill Elementary Choir Directed by Heather Stoker
4:30 p.m. –  Peter G Schmidt Elementary 5th Grade Choir Directed by Marie Williams
5:00 p.m. – Tree Lighting followed by Santa's Arrival!
Free event presented by the City of Tumwater. Thank you to our sponsors: Olympia Federal Savings, Tumwater Downtown Association, The Olympian, Hanson Motors, Heritage Bank, and Northstar Church.
For more information, please contact Tumwater Parks and Recreation at 360-754-4160. More details available online at the City of Tumwater website.