Submitted by South Puget Sound Community College
Norm Chapman, South Puget Sound Community College (SPSCC) Professor of Automotive Technology, has received this year's Byrl Shoemaker Industry Education Alliance Instructor of the Year award.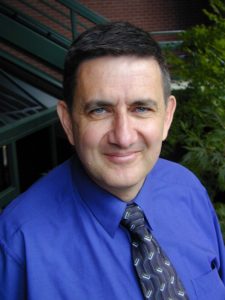 Chapman was selected from a pool of candidates from around the country based on his exceptional performance on the Automotive Service Excellence (ASE) test, where he earned the highest score overall. Each year, the award honors someone who has made extraordinary contributions to excellence in automotive education.
Chapman has been a National Automotive Technicians Education Foundation (NATEF) Evaluation Team Leader since 1987 and has completed close to 200 NATEF evaluations since. In addition, Chapman has had his ASE certification since 1973 and has more than 3,500 hours in technical training over the last 30 years.
"My students keep me young. I've been 32 for years," said Chapman.
Chapman has been with SPSCC since the college first became NATEF certified at the national standard in 1988. According to Chapman, being in the classroom is what makes him the happiest.  His choice to return to teaching after five years as an administrator "was the best decision I've ever made," said Chapman.  "I've got great students."
Chapman's first car was a '63 Corvair Spyder, a fixer-upper that helped him focus on becoming a great technician with the support of his high school auto shop instructor. His first job was at a full service station in 1971; he then gained experience at Toyota/GM. He received his Bachelor of Arts in Power and Transportation and Master in Education from Humboldt State University. He also served 33 years in the Coast Guard and Coast Guard Reserves.
Chapman enjoys teaching at SPSCC.
"Having a good administration and Board of Trustees allows the benefactors to be the students and, from there, the community supports the college. It lets me be able to play in the classroom and feel like my back is covered. I've been to hundreds of schools and there is no place like SPSCC. The location, campus, community, and academic support–we've got the whole package."
The prestigious award is named after Byrl Shoemaker, the past Executive Director of Vocational Education in Ohio. He is considered the grandfather of the NATEF and ASE national certification system that automotive education programs and certified auto shops use today.