Forza is an Italian word meaning strength or force. Whenever the all-male teen choral group, Forza, of the Olympia Youth Chorus, hits the stage, their rich voices meld and fill the venue. Whether the song is serious or light-hearted, audiences react with huge applause.

Dan Colgan is starting his sixth season directing Forza, one of many musical jobs Dan holds. He is also the musical director at Gloria Dei Church, the voice instructor at Centralia College, the assistant director of the Olympia Choral Society and teaches private voice and organ lessons. Along with teaching, Dan continues to learn. He is pursuing his Masters' degree in Music at Concordia University in Wisconsin. He just completed his first year of long distance learning with a month of study at the university in June.
Forza is one of the most enjoyable of Dan's musical pursuits for him, the singers and audience members. In the last five years under Dan's direction, the choir has grown from five guys in 2012 to 17 singers this year.
"They are such an enjoyable group," says Dan. They all get along well even though they come from different schools in the area and have varying interests outside of choir. "During breaks you'll have two talking Dungeons and Dragons over here, another two talking acapella over there, and two more talking Seahawks in another area," says Dan. Love of singing has brought them all together..
Some singers started in the younger groups of the Olympia Youth Chorus and advanced to Forza once their voices changed. Others have been referred by high school choir directors, and a few are Dan's own students. He currently gives private lessons to 12 students, including a couple of girls.
Sam Doyle, a student a Capitol High, is starting his third year in Forza. He sang in Dolce, the youngest group of Olympia Youth Chorus singers for one year, then came back as a high schooler. Dan was his voice instructor and encouraged Sam to join Forza. "We goof around a lot at practice," says Sam, a tenor. He and another tenor, who is now in college, would rib each other. "I said, 'I'm Sam, and I never mess up.' After that I kept messing up." Goofing around aside, it is clear singing is an important part of Sam's life. He is in five different choirs and plans to major in music in college.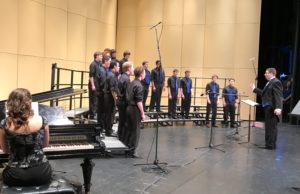 Forza sings a wide range of songs. Their rendition of "Run Around Sue" at the concert last May was a show favorite. "Each concert has a theme. I try to pick two pretty songs and two fun ones that fit," says Dan. At last year's Christmas concert one of the fun songs was a surprise for the audience. Straight No Chaser's version of "The 12 Days of Christmas," is a mixed-up mash-up of other traditional holiday songs that left the audience laughing. That was one of singer Max Montgomery's favorite moments. He goes to Capitol High and is in his second year as a Forza singer.
This season Dan was given the honor of picking the theme for the spring concert, and he chose "From Screen to Song." The Olympia Youth Chorus has three main concerts a year: at Christmas time, a spring show at the Washington Center and a final performance in May. The Forza group sings at all of those in addition to a few appearances on their own. This year they are part of the entertainment for the Washington Center Awards Gala, and they will join the Olympia Choral Society's Holiday concert series.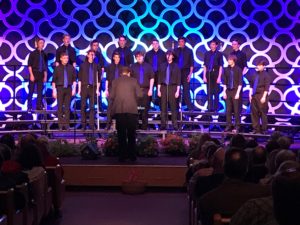 Forza practices Thursday evenings from September through May at Gloria Dei Church. They cap off the year with a potluck. The guys make their own dishes. "We've had everything from Kraft mac and cheese, to one guy who brought a pork roast, and another who made these amazing parfaits." Then they go across the street and play volleyball at the park. "We try to play," laughs Dan. "None of us knows what we're doing. Well, one guy I guess knows how to play."
"We were all pretty bad at volleyball," says Zac Jones, an Olympia High student. This is Zac's second year with the group. He was also taking lessons from Dan when he joined. That last meeting of the year is one of his favorite memories with the group so far.
What comes through in their music, and in how they come bounding down the stairs after practice or leaving the stage after a performance, is how much fun they are having.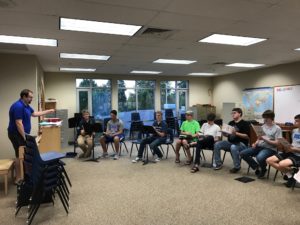 "It's a hoot working with these guys," says Dan.
It is a hoot watching them too.
Dan holds auditions after each major concert to give singers an opportunity to join throughout the year. "That way they have time to learn the music for the next concert," he says.