Since they opened their doors in 2015, Our Table has upheld its mission of serving local, wholesome, delicious meals to Olympia. Its rotating menu is comprised of primarily local ingredients, reflecting what is in season and available from nearby farms.

Almost every day, owners Brad Thompson and Mike Holbein, go to the Olympia Farmer's Market to shop for the ingredients that become Our Table's dishes. They also source their ingredients by working with more than 13 local farms. "Today there were some gorgeous eggplants at the Farmer's Market, so tonight and tomorrow we're having eggplant parmesan," Mike explains.
"The trips to the Farmer's Market have gotten longer because we have to stop and chat," says Brad. He does the management, financial and purchasing side of restaurant operations. Mike is in charge of the food-related aspects of running the business, such as menu planning.
The first thing they say about the past two years of running Our Table is that they feel they have done an excellent job of upholding the values and plan that they began the business with. They have maintained an honest and transparent business model and make sure customers are informed about where the food comes from. They have also been able to buy a large amount of their ingredients locally, especially the organic produce they use. They estimate that 95 per cent of the product in their restaurant, from flour to paper products, comes from Washington. "A lot of this is little stuff, but we believe it makes a difference," says Brad.
Due to their success in the first two years, their desire to increase the efficiency and speed of service and desire to diversify the menu, Our Table is expanding its hours of service from four days a week to seven. They will now be open from 9:00 a.m. to 3:00 p.m., every day. They are also discontinuing the supper club at the restaurant, although food still can be purchased after 3:00 p.m. through the window at the Eastside Club Tavern.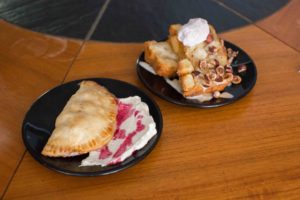 With the expanded hours, patrons can expect to see an updated menu. Brad and Mike change the menu upon the arrival of new ingredients or new ideas, but estimate that major changes are made around every two weeks, with the market vegetable changing daily. When the menu is changed, the skeleton structure remains the same and the details are filled in with what is abundant and available locally. We can expect a variety of dishes that reflect the changing seasons and are as inspired and delicious as always.
Our Table is also expanding the dishes they serve through their window at the Eastside Club. The owners plan to add more refined appetizers and new entrees. Currently their menu at the Eastside Club consists of mostly sandwich-style items and they want to diversify, possibly with pasta and meat dishes.
So, how do the new menu items get developed? Mike starts with the basics by looking at the ingredients, rather than developing a dish idea first. "I'm looking at a cut of meat like, 'I've done this before with this, now what can I do that's new?'" he says. His philosophy is that with quality ingredients, it is easy to make quality food.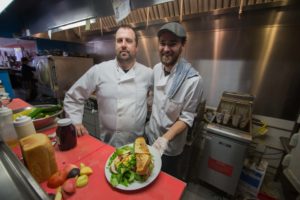 A dish he recently developed, a raw potato and onion salad with meatballs, was an innovation developed by the chef's desire to create a salad with more crunch. "It sounds weird, but when you put it together and take a bite, it clicks," he says.
Since they buy locally and serve food in an area that supports local businesses, it is inevitable that community would form around Our Table. Brad and Mike relate a time in early 2017 when two of their restaurant's windows were broken in a late inght incident and the overwhelming amount of support they received.
"Even the night that it happened, people helped and supported us. People went and got plywood to board up the window and helped clean up the glass," Brad says. Rhythm & Rye hosted a benefit concert with three bands and a DJ to help support Our Table's repairs. Coupled with various community donations, their concert raised enough to replace the broken windows. Chelsea Farms Oyster Bar took a dollar from every oyster they shucked at their restaurant to the fundraiser and the owners recalled community members simply walking into the restaurant to make donations.
Our Table pays it forward by working with groups like Vet's Cafe, an organization that trains veterans in fields such as farming and ecology. They also put on a fundraiser for the Family Support Center every winter. They try to create positive impact in smaller ways as well, such as donating their food scraps to friends who raise pigs.
But when it comes down to it, quality food is the heart of Our Table. As Mike says, "Start with good food. It's all about the food. It's not about the dining room. It's not about if the silverware matches. It's about the food."
For a taste of Our Table's locally inspired menu, stop by at 406 4th Ave E. seven days a week from 9:00 a.m. to 3:00 p.m. You can also reach them at 360-932-6030.