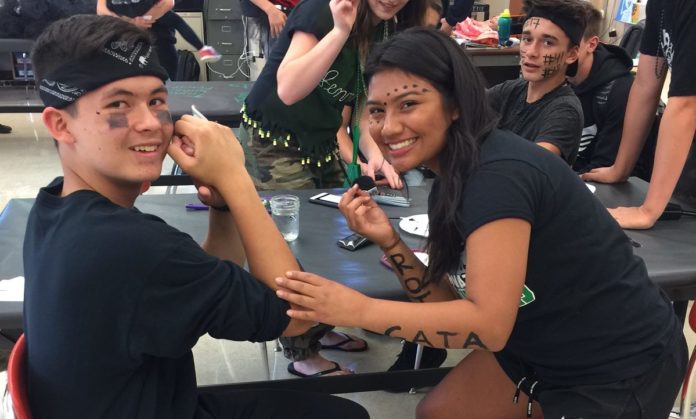 On September 5, the day preceding the start of the 2017/2018 school year at Tumwater High School, the freshman class of 2021, anxious with pre-high school jitters, packs the high school commons for Freshman Orientation. The school's Renaissance and Leadership classes, who organize this event each year, know that ice-breaking activities and school tours are valuable to the uncertain freshman students. However, the staff and students involved in these two organizations have a another focus for this warm September morning – to invite freshman students to become a T-Bird, to make them feel as though they genuinely belong. From signing a graduation gown as a commitment to graduate, to being taught how to perform the "T-Bird roar" by Principal Jeff Broome, the incoming class is encouraged to demonstrate care and pride in all they do at Tumwater High School, all while having fun.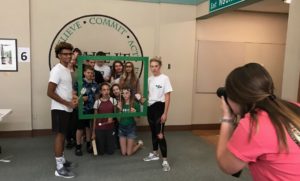 The welcoming atmosphere of Freshman Orientation demonstrates the values of those who put it on, in particular, the Renaissance class. This class consists of students whose focus is bringing positivity to the school community using the concept of the "five R's": that respect, recognition, reward and reinforcement lead to positive results. And, along the way, Renaissance members learn leadership, collaboration and event-planning skills through various events over the year. These include a field trip with the Life Skills students, hosting the Mr. Tumwater talent show and the Winter Wishes assembly, and participating in community service. Renaissance strives to create a positive school community by recognizing all students and staff for hard work and pride in whatever they do.
Renaissance student president Kat Smith shares, "There is always something to find [in each student] that is positive. . . every single person matters in this school." Renaissance wants to make each student feel appreciated and recognized, even if they don't play a popular sport or have a 4.0 GPA. This is accomplished through recognizing students for academic improvement and achievement, good citizenship and participation in clubs and activities, among other things.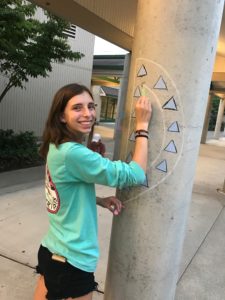 Teachers also receive recognition. On the first work day, their favorite snacks were delivered to them, compliments of the Renaissance class. The class strives to recognize and include other staff members besides teachers as well. The intended goal is to create a positive environment where everyone feels welcome, and to "create a bond between people so that they enjoy being [at Tumwater High School]," Kat explains.
This year, new teacher Jill Giudice hopes to carry on and even increase the positive impact Renaissance has had on THS. The Wisconsin native, now in her twelfth year of teaching, has taught all grades K-12. Originally led to Tumwater High School by its art program, Giudice found that both her values and education background made her a perfect fit for the Renaissance class. She has plentiful experience with the PBIS system, which can be described as recognizing and rewarding students for doing what is right, rather than focusing on recognizing and punishing wrong behavior. Giudice is a strong believer in this method which encompasses part of Renaissance's "five R's." Giudice loves to "inspire and bring joy," and judging from the praise and enthusiasm from Renaissance and art students, among others, Giudice has certainly succeeded. "It feels as though I've won the lottery of teaching," she shares. "The students are welcoming, hard working, respectful and motivated."
With a warm welcome to Tumwater High School, Giudice, along with the Renaissance class, has grand plans for a reinvention of Renaissance. Its core values of recognition, positive reinforcement and respect will continue, but now with a greater emphasis on unity and inclusion. Previously, the activities of the Renaissance and Leadership classes were separate, despite both working toward the same goals. However, high school staff and students see the benefit of working together. "The only way to grow is to be collaborative," says Smith.
The solution was found in the genesis of the "Pride Tribe." The Tribe, with Renaissance and Leadership, is about 60 students strong. But Pride Tribe truly includes every student, staff or faculty member in Tumwater's classrooms and halls. Anyone who wants to be a part of this family can. This year's Freshman Orientation, for instance, saw the majority of its student leaders from Renaissance or Leadership. However, a good number of leaders sporting the "Pride Tribe" t-shirts were in neither class, but still had the same desire to welcome in new freshmen. The freshmen also were encouraged to join the "Pride Tribe," and some won the Pride Tribe shirts. With the creation of the Pride Tribe, Giudice notes that  "we've created a group for everyone." The more people united together, the stronger the group. The stronger the group, the more you get accomplished, Kat explains.
And the Pride Tribe is certainly on track to accomplish a lot this year. Already, the Tribe led Freshmen Orientation and the first "Dress for the Nest" – a new pre-game event at THS. At the first "Dress for the Nest," black clothing and paint were provided for the football game blackout theme, students learned about the Nest (the super-fan section of the stadium) and cheers were taught. Leadership and Renaissance have already started collaborating through writing each other notes and creating a Pride Tribe motto together.
Though much has changed for Tumwater High School's Renaissance class, they will continue to make a positive impact in their school community with the added strength of greater unity.