One's quiet, always even-keel and never letting his emotions take over on the court. The other plays with fiery passion, a roller coaster of feelings and reactions, feeding off the energy and atmosphere of his surroundings.
North Thurston senior tennis players Michael Campbell and Thomas Sui are polar opposites when they step on the court.

"I'm always trying to keep him in line," Sui said, "and he's always trying to light a fire under me. It makes for a good combination."
And the duo is, arguably, the top doubles team in the state this season.
"He's always silent," Campbell said about Sui. "I think the most I have ever got him to say during a match was, 'Let's go," and "Oh, baby.' It's always a whisper when he says it though, never really loud, but if I can get that out of him, I'm happy. He'll give me a nice high five after he says it and then come out and hit a big ace."
In high school tennis, you are fortunate to have doubles partners play for two years together. Talented young teams often drift into single play and older players are paired up late in their high school careers.
Campbell and Sui have been the exception. They have been doubles teammates all four years.
"We didn't even talk really the first year. We weren't really friends," Campbell said. "We just did it because we wanted to play. We wanted to win. Now we're pretty close friends. We take a lot of classes together and spend a lot of time together."
The duo is coming off a spectacular junior season where they finished second at the Class 3A state tournament, losing in heart-breaking fashion to the Mercer Island team of Christian Anderson and Chris Elliott (4-6, 6-3, 7-6) in a finals march they actually led in the third set.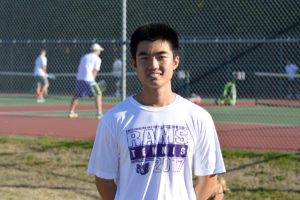 "We were up 4-1, but just couldn't pull it off," said Sui, who owns a 3.9 grade point average and plans to study biochemistry in college. "We missed a couple serves, some key points. It was close. It's nice to have another change to get it (this season)."
It was the third consecutive trip for the team to the state tournament. They bowed out in three matches as freshmen, winning their opening match and losing the next two, before claiming fourth as sophomores.
"State was a little overwhelming that first year for them," North Thurston coach Fred Reed said. "They were able to pick up a win and gain some valuable experience. We said, 'Ok next year you're going to place,' which they did. They placed fourth. Last year I told them they now knew what state was like and they were going to make the finals. They have just gotten stronger and better every season."
Now that all remains is winning a state title.
"We don't really talk about it, but it's always there," Campbell said about ending their high school days with a state championship. "I have friends who have already won state in other states. So, it's like I feel pressure to win it as well. I want to be that guy."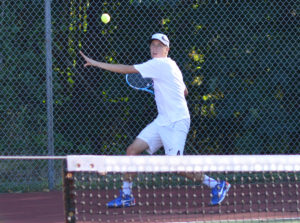 Adding to the team's drive for a state title is the fact that last year's champs were both juniors and are back to defend their title.
"There's a little bit of motivation having them back this year because I definitely think we were the better team," said Campbell, a 3.5 student who is eyeing playing at several colleges next year, including Montana and Montana State. "We still have to take them down."
While primarily single players when they aren't playing for the Rams, Campbell and Sui have actually logged plenty of court time recently to prep for their senior season, playing in a variety of doubles tournaments against older competition in an attempt to improve their game together.
Both said the approach has more than paid off.
"We're definitely a lot more confident," Sui said. "Having three years of state experience under your belt helps. We're trying to do everything we can to win since it's our last year together."
The duo opened last year dropping their first match before steamrolling through conference and district play.
"I think we came in a little too confident last year and didn't play very well," Sui said of that opening match. "It was a definitely a wake-up call."
This year they have been 100-percent focused from the start, sweeping through the competition during the early part of the regular season.
"They're both always thinking about how they can turn it up another notch," Reed said. "For me it's easy. They'll march through the season without dropping a set and they'll get better as they get closer to districts. If they drop a set I will be surprised."