Here's a challenge for wine lovers: see if you can spot the theme.
Heart of Darkness (port)
Othello (Bordeaux blend)
Lady Macbeth (2010)
If you noticed a certain literary motif among this Madsen Family Cellars' selection, that's no accident. Winemaker Dana Madsen's wife, San, is an English teacher and her influence is evident in the naming process. "Our first blend was named 'Othello' for the Shakespeare character because it was dark and mysterious," says Madsen. "Then we had a merlot blend that was a little lighter, and my wife came up with 'Lady Macbeth.' We do a rosé called 'A Rosé for Emily' after the Faulkner story."
Madsen wines have been winning awards from the beginning, and this year is no exception. The Heart of Darkness port (named after the Joseph Conrad story) took home best dessert honors at the annual Capitol Food & Wine Festival, while Lady Macbeth claimed a gold medal at the Cascadia competition in Columbia Gorge. Even without a literary name, the 2011 Red Mountain Cabernet won a gold medal at the Seattle Wine Awards.
Madsen credits the quality of the grapes he uses. "The old wine maker who taught me a lot of what I know told me early on that you can make bad wine out of good grapes but you cannot make good wine out of bad grapes," he says. "We pay special attention to really good growers. All of our grapes are handpicked and we process them right in front of the winery. We treat them lovingly and don't do a lot of chemical additions. Basically, we let the wine be the wine. It's worked out very well for us."
Success arrived with the first vintage. Madsen had been making wine in his garage for some time when a tasting trip to Oregon in 2005 convinced he and San to try their hands professionally. By 2008 they were ready to open their tasting room and simultaneously submit the 2005 batch to the Capitol Food & Wine Festival where it took home a bronze medal.
The trend continued. "We send off a few of our wines each year to various contests," says Madsen. "We've won gold medals up and down the coast, including in several California based international contests."
Anyone who's seen the movie Bottle Shock knows that such competitions occur through blind tastings so that no favoritism can taint the results. "The selecting panels are picked for their history of being able to fairly judge wines for their quality," says Madsen. "The Cascadia and Seattle contests are open to anyone in the Northwest, which includes a pretty wide range of wineries statewide and into Oregon. Some of the California wines compete as well."
The Red Mountain Cabernet clearly holds a special place in Madsen's heart. "I really enjoy the fruit they (Red Mountain AVA) grow and they have some fabulous wines coming from there," he says. "When I began making wine, our first two barrels were Red Mountain Cab."
While the recognition is important, it's main purpose is establishing credibility. "For someone who walks through the door of our tasting rooms and doesn't know anything about us, it (the connection to Red Mountain AVA) gives us a bit of street cred right off the bat," says Madsen. "That's why we have tasting rooms – they're what sells the wine."
Even now, with nearly a dozen wineries in Thurston County alone, he still encounters locals who are unaware of the surge. "We never cease to be amazed at the number of people who come up to our booth at events and say, 'Gee, we didn't know there were wineries in Olympia,'" says Madsen. "The lovely part of it for me is that moment where I get to pour somebody some wine, they swirl it around and taste it and the usual reaction is, 'Wow! That's cool.'"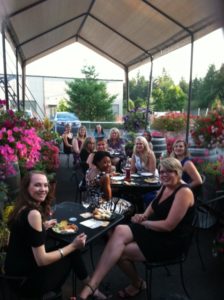 On September 17, 35 people had an opportunity to experience that for themselves. Madsen Family Cellars held a Wine and Food Pairing class at their tasting room featuring six different wines coupled with special tapas prepared by Chef Treacy Kreger. Kreger is an executive chef at St. Andrew's House in Union, board president of the Friends of the Olympia Farmers Market, and a board member of Slow Food Greater Olympia.
"He's a mushroom expert who does a lot of work with local ingredients and he's a wine savvy chef," says Madsen. The evening was a great success and the winery hopes to offer more special events in the future.
For more information, visit www.madsenfamilycellars.com or stop by the winery tasting room at 2825 Marvin Rd. NE Suite D, Wednesday – Sunday, 11:00 a.m. to 5:00 p.m.
Sponsored