Submitted by City of Tumwater
It's time, Tumwater! The City of Tumwater is hosting its annual Clean Up, Drop Off event.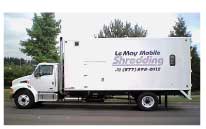 Safely discard expired prescription medications; donate gently used clothing and household items, non-perishable food and personal hygiene items, bicycles, books; e-cycle computers, laptops and other electronics; and shred personal documents.
It's fast, and it's free.
Stop by the Clean-up Drop-off event from 9:00 a.m. to 1:00 p.m., on Saturday, October 14, 2017, in the Tumwater City Hall parking lot at 555 Israel Road, Tumwater, WA 98501.
Volunteers will help unload your vehicle – there's no need to get out of your car. Just drive through and drop off.
DISCARD
Responsibly destroy old or unused medications at Tumwater Police Department's Prescription Drop Box.
Shred personal, sensitive or financial documents to protect against identity theft at the LeMay Mobile Shredding Truck, sponsored by O Bee Credit Union.
DONATE
If you're not using it, you probably don't need it. Donate your gently used items to help people right here in our community.
Goodwill is accepting donations of small furniture, household items, toys, kitchen items, sporting equipment, and clothes and e-cycling, too!
Habitat for Humanity is accepting donations of building materials, furniture, and gently used appliances.
Intercity Transit is accepting new or used bicycles and bicycle parts for "Earn-a-Bike" program.
Salvation Army is accepting donations of small furniture, household items, toys, kitchen items, sporting equipment, clothes and electronics.
Thurston County Food Bank will take donations of non-perishable food.
Tumwater Timberland Regional Library and Friends of the Library accepting donations of all kinds of books in gently used condition.
YWCA Other Bank is accepting donations of unopened hygiene products.
Questions about donations? Please contact the partner organization or check their website for more information.
Each partner organization reserves the right to accept or reject donated items that do not meet their requirements, and to make referrals to other organizations.
Sharps will not be collected with medications.
Trash and yard waste will not be collected at this event.
Hazardous materials will not be collected at this event.
Hazardous Materials
Hazohouse, located at the Thurston County Waste and Recovery Center at 2420 Hogum Bay Road NE in Lacey, will accept and properly dispose of chemicals and toxins. This service is free for residents.
Volunteers are still needed to help with this event. Interested in becoming part of Volunteer Tumwater?  Contact David LaGarde, City of Tumwater Volunteer Coordinator at volunteer@ci.tumwater.wa.us or call 360-252-5424.