Hosted by the Shelton Skookum Rotary Club Foundation, OysterFest is the largest annual festival in Shelton and has something for everyone, even those who aren't oyster lovers. Taking place October 7 and 8, OysterFest is home of the popular West Coast Oyster Shucking Competition and Seafood Cook Off. But what's most special about OysterFest is that all proceeds benefit local charity organizations.
"Dick Oltman started OysterFest over 35 years ago as a way of prolonging the tourist season here," explains Melanie Bakala, the Grand Old Oyster (GOO) – the Skookum Rotarian in charge of OysterFest. "But more importantly, it's a major fundraiser for dozens of charities in the area. The money you spend on the coconut shrimp, for example, goes toward providing meals to senior citizens in Mason County through Meals on Wheels."
The coconut shrimp from Senior Citizens of South Sound is the most popular item at the festival adds Melanie. Another favorite is the Squaxin Elders salmon and fry bread which benefits the elder members of the Squaxin Island Tribe. Buying barbecued oysters supports the Boy Scouts.
Every one of the vendor booths are manned by volunteers donating time to raise money for their organizations. "The impact this event has on our community is significant," says Melanie. "Go ahead, take a bite and do some good!"
Not Just Seafood
Because aquaculture is a huge part of the community in Mason County, OysterFest celebrates the oyster's impact on the area. But it's not just oysters you'll find at the event.
"You don't have to love oysters, or even like seafood, to enjoy OysterFest," Melanie explains. "There are all types of food and activities for everyone to enjoy."
Vendors serve up a wide variety of fare, including many non-seafood options such as hamburgers, brats, espresso, fudge, chili, corn on the cob, candy apples and root beer floats. Think of this as your last opportunity to get your fill of delicious fair food before winter is upon us.
And of course, don't forget the micro brews. Over 20 breweries will be serving up their best at the festival inside the 21+ beer garden which benefits the Skookum Rotary Foundation.
There will also be a wine tasting booth with 19 different wineries attending so you can taste test as well as purchase bottles to take home. Each year OysterFest has their own private label bottle of wine. This year, Scatter Creek Winery's Peach Breeze Chardonnay and Daves Rajin' Red Blend will bear the OysterFest label. Tasting tickets are just a $1 and souvenir glasses are just $5.
OysterFest Event Highlights
In addition to the food, there are more activities packed into these two days than you can imagine.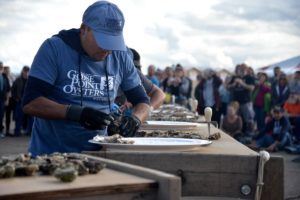 West Coast Oyster Shucking Competition – Happening both Saturday and Sunday from 12:00 p.m. to close. Expert shuckers vie for the title of fastest shucker or the best half-shell shucker. This competition is a preliminary event to the National Oyster Shucking Championship Contest held at St. Mary's Oyster Festival October 21-22 in Maryland. National winners go on to compete internationally.
OysterFest Cook Off – Organized by the Shelton Rotary Club, this year's "Top Chef" style cook-off will be one like never before. On Saturday, get ready for some high-stakes action as amateur chefs will be given ingredients and asked to create a dish. Then on Sunday, the professional chefs take the stage, and at the end of the day the amateur champion and the professional champion from Saturday will face-off to see who will be the next Top OysterFest Chef.
High Ceiling – this local Shelton band is opening the 2017 event in the beer garden with their feel-good tunes. They won honors in two categories at the Olympia Music Awards. Live music will continue throughout the weekend in the beer garden.
Family String Band with the vocals of Joanne Green – This all-ages favorite will deliver an energy-packed performance at 10:00 a.m. on Saturday to kick things off at the Family Entertainment Tent (Wine Tent) which is open to all ages. Live music will continue throughout the weekend in this venue as well.
Putt Putt Golf – Fun for the entire family, this miniature golf game is presented by local Boy Scout Troupes.
Barrel Train Rides – A kid favorite every year and not to be missed.
Marine Touch Tanks – another kid favorite is a hands-on educational booth filled with intertidal sea creatures.
More Kid-Friendly Fun – With face painting, crafts, miniature boats, remote control airplane demonstrations, carnival games and more, this festival packs a fun-filled punch your family will love.
Getting to OysterFest
Take Highway 101 north towards Shelton, exit onto Sanderson Way Road and follow the signs to OysterFest.
OysterFest is open Saturday October 7 from 10:00 a.m. to 6:00 p.m. and Sunday October 8 from 10:00 to 5:00 p.m. Admission is just $5. All proceeds go to the Skookum Rotary Foundation, which uses the funds to support community grants, scholarships, and a variety of projects in Mason County.
Onsite parking is free. Handicap parking is available near the gates. There is also free shuttle bus service from Shelton Civic Center, Shelton Yacht Club and Shelton High School. Shuttles run about every 30 minutes.
For more information, visit the OysterFest website.
Sponsored