For Bryan Willis, a local playwright with 30 plays to his name, success has nothing to do with notoriety, and everything to do with community. "I'm a Northwest kid. This is home. This is where I want to be. I am living that success." Having once worked eight summers in a salmon cannery to pay for college, Bryan is grateful to live off his playwriting—allowing him to raise a child and build a house on 10 acres where blue herons paddle through his pond.

Born in Olympia's St. Peter Hospital, Bryan was raised in a family of 8th generation pony farmers. Specializing in Shetlands—a huge craze back when he was a kid—his father kept 40 of them in the garage before moving the family to a farm in Olympia. Unfortunately, the pony market crashed and never recovered. When his father "lost the financial shirt off his back," and the family practice folded, his father transitioned into accounting while his mother taught kindergarten at Roosevelt Elementary School.
With a childhood foretelling the same humor pervading his plays, Bryan learned at Roosevelt that smart kids were also good athletes, i.e. they learned to run quickly from bullies: "I became a track star early on!" he laughs. When not dodging bullies, however, Bryan was hardly a perfect student with his fair share of scrapes.
During his lifetime, Bryan has witnessed Lacey grow from a population of 5,000 to 50,000. "Olympia went from a sleepy, little red-neck, backwater town," Bryan recalls playfully, before pausing for a mirthful amendment: "from a self-important, sleepy, little red-neck town, with traffic, and McDonalds and Pizza Hut, to the same, plus some nice restaurants and some new foreign languages." When Ronald Reagan took office in 1980, Bryan noticed the spread of panhandling on every street corner. As a playwright with a conscience, his plays all ponder how people occupy a place—a place which in turn occupies people's lives.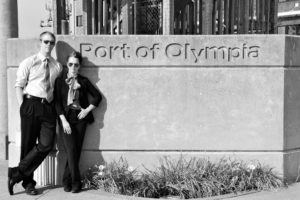 Bryan feels that, unfortunately, American theater still struggles for recognition. "We've never valued the arts—not yet—in this country." The danger in this culture is glaring for Bryan. "We tend to produce shows that have a pedigree. That means that it has a proven track record somewhere else." And, as a result, "very little is homegrown." Although a candid critic at heart, Bryan's plays avoid soap box politics, striking with a sense of fun, rather than a hammer.
Studying at New York University pressed Bryan to reassess the role of his environment. "After reading 10,000 scripts set in Manhattan, I didn't need to write any more scripts set in Manhattan—there were enough of those in the world," he says. Fortunately, when Bryan returned home to the Northwest a decade later, he found Olympia buzzing with new energy for theater. Harlequin Productions' very first plays ever produced—back in 1991—were by Bryan. Despite advocating for tiny venues like Midnight Sun, with just 40 seats, Bryan affirms that "any place where people witness a high quality performance is a special place."
Bryan attributes his unlikely success to a reputation he built after a well-received production of his at the Old McCleary Hotel in 1998. A woman in the audience enjoyed the show enough to recommend him to a foundation in England which then offered him a commission. "All of that happened," Bryan suggests, "because I produced a high-quality show in McCleary, Washington."
Throughout his travels, he's learned some important lessons about community. "After two years in England, I found that I was a writer in the US. And after 4 years in New York, I found that I was a writer in the Northwest." The slow, deductive process eventually led him home, back to a rainy little city called Olympia.
Bryan's latest play, Bicycle Noir, is a murder mystery about a claims adjuster pursuing a perpetrator in downtown Olympia. Featuring a cast of local Olympians, Bryan considers the play a love story about his home town. With a satirical twist, all the gender roles are flipped from film noir standards: the helpless hostage is now male; the evil genius is female; the femme fatale is male; and the lead character, of course, is female.
Bicycle Noir will receive three performances at the Washington State Capitol Campus on September 24 and three on October 1. After convening at the Capitol steps, both cast and audience, quite cleverly, will be mobile, riding to various venues across the Campus together. As all the shows are free, just bring a bike and join the fun for a peddling production of Bryan's Bicycle Noir this fall.