How often in Olympia do you pass by a sign or headline reminding you to 'Buy Local'?
The answer is probably every day or more. But if you are like me, your desire to stay on a budget often leads you astray. You find yourself wandering one-stop chain stores for the sheer sake of perceived convenience and lower price. However, if economics has taught us anything, it's that the cost of something isn't always monetary. Did you consider the cost of the quality? The customer service experience? Your overall health and well-being?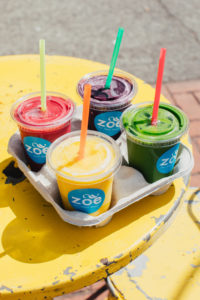 Jason and Briana Phillips, owners of Zoe Juice Bar in Olympia, embody all that is best about buying local. That is because their business is founded on what matters most: family and how it can be defined.
Jason and Briana see their family as so much more than just themselves and their little girl, Rylee Hope. Their family includes their employees, their customers, the community and when they can reach it, the world. That is why you will see the name, Zoe Juice Bar, far beyond their Olympia storefront across the parking lot from Ralph's Thriftway.
"Before Zoe Juice, Briana and I had never owned a business and, of course, there have been times of stress over the unknown, but the community has supported us from the beginning.  Their generosity inspires us to continue giving back in as many ways as we can," explained Jason.
One of Zoe Juice Bar's newest products, Baobab Powder, brings together awesome health benefits and global altruism.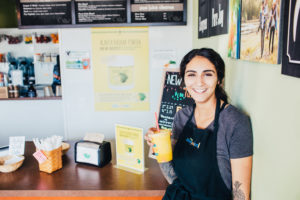 Baobab Powder is a fair-trade product of Alaffia. It is known throughout Africa as the Tree of Life and is a vital superfood, rich in Vitamin C. It is used to boost smoothies, juices, yogurt and baked goods. What is even more amazing is that every purchase of Baobab powder, (or any of their products), goes towards the company's greater mission of empowering women and communities in Africa. In this case, buying local benefits the world.
It's easy to find a reason to buy local when you know your purchase gives back to something greater and when you know the product is going to make you better too.
"We love giving back," said Jason. "We have had the opportunity to support lots of events and organizations over the years. Not long ago, we had the pleasure of hosting a small field trip group from the Boys and Girls Clubs of Thurston County. It was really exciting getting to teach our youth healthy food choices and about the powerful work we do here at Zoe Juice Bar."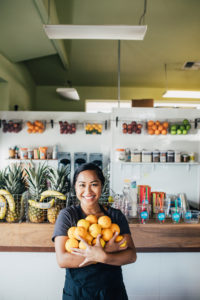 Zoe Juice has proudly supported the YWCA of Olympia, Capital City Marathon and is even a member of the Thurston County Chamber of Commerce.
"I love living a healthy lifestyle and I love that Zoe Juice Bar has a positive influence on my health decisions," shared Zoe juicer Vanessa Graham. "I like hearing back from our customers about how much they love our smoothies and seeing them make healthy choices as well."
The environment at Zoe Juice Bar is for everyone and every age. If you are like me and unfamiliar with the idea of juicing, don't fret. The team will greet you with a smile and eagerly teach you everything they know.
"Zoe Juice Bar is such a friendly environment for everyone," added Vanessa.  "All of the drinks at Zoe Juice Bar are customizable. We love working around our customers individual needs. All you have to do is ask. We are able to create any drink of your choosing with any of the ingredients we have on hand."
Zoe Juice Bar's menu and options are extensive. From cold-pressed juices to fruit smoothies to acai bowls to conquer that midday hunger. They have boosts and quick 2 ounce shots and all of it comes from their garden behind the counter. Truly fresh ingredients fill the refrigerators and shelves of Zoe Juice where they strive to provide the highest quality produce every day.
Make Zoe Juice Bar your new daily stop and build a healthier you, a healthier community and a healthier world. To learn more and preview their menu visit Zoe Juice Bar online or in person at:
1851 State Ave NE Suite 101 in Olympia
Sponsored