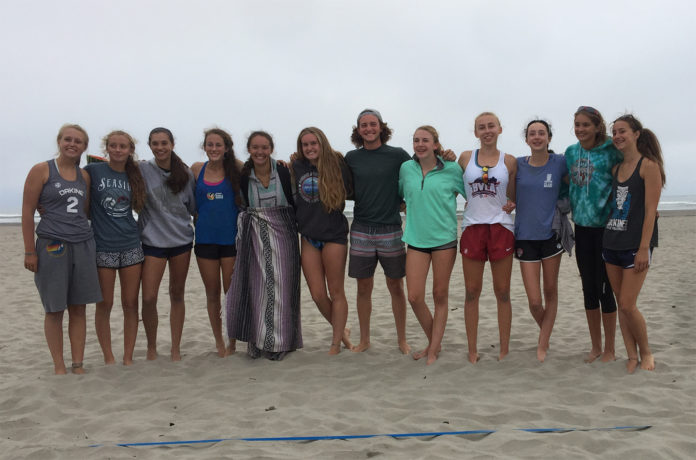 Thurston County has been considered a hotbed for high school volleyball talent for more than two decades
It now appears, however, success in the sport is no longer confined simply to the courts, but has since moved outside and onto the sand as well.

Several local players, including sisters Avi and Aris Vetter of Olympia, took home top honors at the 36th Annual Seaside Beach Volleyball Tournament at Seaside, Oregon to close out their summers.
The world's largest amateur beach volleyball tournament saw more than 1,500 teams compete over a four-day period with Olympia, Lacey and Tumwater players being well represented on the podium as the junior doubles division was almost swept by local talent.
Avi Vetter, a freshman at Olympia High School, and Aris Vetter, who attends the NOVA School, dominated the Girl's Doubles U14 AA Division Gold Bracket, taking home the first-place trophy.
The Vetters defeated fellow Dakine Beach Volleyball Club teammates Addie Denslow and Kambel Fiser in the finals – more than showing the depth of the University Place -based club. Denslow, who joins Avi Vetter as the only freshmen on Olympia High School's varsity volleyball team, and Fiser, knocked off the top-seeded team in the semifinals before finishing second in the tournament.
Another pair of sisters, Maia and Maddie Nichols, who are a sophomore and freshman at Capital High School, respectively, claimed the championship in the Girl's Doubles U16 AA Division Gold Bracket, while Northwest Christian senior Samantha Johnson teamed up with Maddy Clark of Puyallup's Rogers High School to capture the crown in the Girl's Doubles U18 A Division Gold Bracket.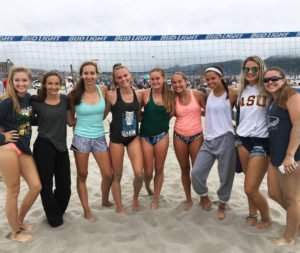 Tumwater High School standout Kennedy Croft, who looks to guide the Thunderbirds to their third Class 2A state championship over the last four years and was named the 2016 Washington State Gatorade Player of the Year, finished third with partner Hannah Yerez of Gig Harbor High School in the Girl's Doubles U18 AA Division Gold Bracket.
Capital freshman Devyn Oestreich, who is a teammate of Maia and Maddie Nichols on the Cougars' volleyball team, grabbed second place with Peninsula High School's Maeve Griffin in the Girl's Doubles U16 A Division Gold Bracket
All 10 of the girls are members of University Place's Dakine Beach Volleyball Club.
"We were very surprised with finishing first," Aris Vetter said. "We thought we would do well, but we didn't expect to win."
The first-place finish comes a year after the sisters had to remove themselves from the tournament after Aris suffered an injury to her lower back.
"We definitely got some redemption after what happened last year," Avi Vetter said.
The two started playing volleyball approximately seven years ago, taking up the sport at the YMCA. They made the transition to beach volleyball three years ago.
"It's completely different from regular volleyball," Avi Vetter said. "When you're indoors you have so many more players that there can be times when you don't even touch the ball. In beach volleyball it's just the two of you. You're involved the entire match. There really are no breaks. It takes a lot of communication and trust."
Two aspects that the sisters excel at while playing.
"She's the best partner I've had," Avi Vetter said. "We help each other so much out there. We have great chemistry together, and we can really trust each other. Sometimes when you play with people they won't point out what you need to work on because they want to be nice to you. Being sisters we'll tell each other exactly what we are thinking. It helps us a lot."
Johnson, who has verbally committed to the University of Puget Sound, and Clark duplicated the Vetter's feat in the U18 A Division Gold by winning every match 2-0.
Maia and Maddie Nichols rallied after dropping the first set in their semifinal matchup, losing 21-16, before winning their next two games (21-18, 15-9) to win the U16 AA Division Gold championship.
The 2018 Seaside Beach Volleyball Tournament will be held August 9-12.