The Seattle to Portland bike race is a two-day trek from the Emerald City to the Rose City that covers approximately 203 miles. It is one of the nation's largest recreational bicycle rides, drawing participates from across the country since its inception in 1979. Registration is limited to 10,000 riders, many of which prep for months leading up to the challenge.

Connor Potkonjak and his buddies did it on a whim.
"Mentally, none of us were prepared for it," Potkonjak said of the STP which took place July 15 and 16. "I think we met up once to plan everything out, but we didn't practice at all. It probably wasn't the best approach."
What Potkonjak and his fellow Capital High School sophomores, including Jake Brandsma, Jake Layton and Colby Wilson, lacked in planning, they made up for in pure enthusiasm as they successfully completed the ride.
Potkonjak had previously participated in the STP three years before when his family rode with a close group of friends which included Jeff Smith, who worked with Potkonjak's father and was affectionately known as "Grandpa Jeff" by Connor.
According to Potkonjak, it was Smith who was quick to pick up anyone's spirits in 200-plus mile bike trip whenever they hit the wall three years ago. And Smith was also his inspiration to ride this year.
"He just made it fun," Potkonjak said about Smith, who passed away unexpectedly in 2016.
When this year's STP popped up on Potkonjak's radar,those positive memories resurfaced, sparking an interest to complete this year's race in honor of "Grandpa Jeff."
One obstacle, however, presented itself rather early in Potkonjak's bid at participating in the race – timing. His desire to ride came relatively late in the game.
As it turned out, despite cutting it close, registration had not yet been filled and Potkonjak now turned his attention to finding some friends to ride with. Jake Brandsma was first onboard. "It just kind of took off from there," Potkonjak said. "We told Jake Layton what we were doing and he wanted to join in, then a couple days later Colby joined. It grew pretty quickly."
Things were certainly starting to line up for Potkonjak, whose sentiment for riding was increased once his mother loaned him Smith's bike to ride in the race.
"I have a mountain bike. All I ever did with it was go up and down the street," Potkonjak said. "This was a road bike. I had never ridden one before. The tires are really thin and it's very different from riding a mountain bike. My mom was really nervous about me riding it and just kept telling me to be careful. There were a couple times I wondered what it would be like to go off some jumps with it, but I didn't do that," he laughs.
Potkonjak elected to save the stunts for a different time as thoughts of dealing with a flat tire while in the middle of the largest multiple-day bicycle event in the Northwest superseded any trick he could pull off.
"The first day actually went great," Potkonjak said. "We did have some trouble at the start. When we were going over the (University) bridge we got separated from Jake (Layton). He was behind us and we had to wait for him on the other side. But other than that, the first day went really well. We took advantage of all the rest stops they had. They have a lot so it really breaks up the ride."
Once at the mid-way point, the group stayed overnight at Centralia College then it was back on the bikes bright an early the next day to close things out.
"The second day was a little bit tougher," Potkonjak said. "We were a little sore and it was a lot colder that day, but riding with a group of friends made it pretty easy."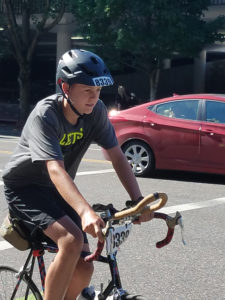 Potkonjak is already thinking about a return trip next year for the group, but with far greater preparation this time around.
"We were joking around and talking about what it would be like to ride it on a tandem bike or one of those bikes that seats three people. Just trying to think of something different," Potkonjak said. "Towards the end (of the race) they gave us a survey to fill out. One of the questions asked what did we enjoy most about the ride, and all of us agreed it was the camaraderie. It's something we will always have together. It was great to be able to ride it with my friends and to finish it in honor of Grandpa Jeff. He meant a lot to me."