Submitted by the City of Tenino
The City of Tenino is excited to announce that through the generous sponsorship of The Adam Craig foundation and the Four Square Mile Music Festival the Tenino Quarry Pool will be free to all attendees Friday July 28 and Saturday July 29 from 12:00 p.m. – 6:00 p.m.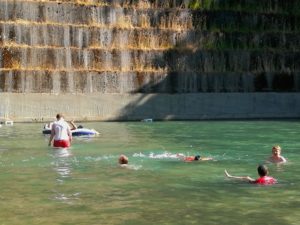 We are excited to work with the foundation in it's mission to promote positive community experiences and support Tenino's youth. The Adam Craig Foundation Quarry Pool Party will run in tandem with the foundation's sixth annual Four Square Mile Music Festival which will feature Country Music Star and Tenino native Adam Craig as well as several other Northwest musicians. The festival serves as the foundations primary fundraiser of which many local youth organizations and activities have benefited.
The Foundation began by donating music instruments to the kids in the schools and has since blossomed. Last year, the event generated over $10,000 for the Tenino High School Stadium and Field project, purchased 50 jackets for the track department and brought in $2,250 to the Tenino Middle School for the Cispus Outdoor Education Camp. It also resulted in the purchase of a sousaphone for the high school band, and a variety of other items.
Over $50,000 in the last five years have been given back to the youth of Tenino. The Foundation has contributed to the needs of every Tenino school, from tables to tablets to musical instruments as well as to community sports programs and the Tenino Quarry Pool.
This sponsorship is made possible by a new program at the City in which corporate and non-profit organizations may contact the City to sponsor the day. The Tenino Quarry Pool is part swimming pool and part inland lake that resides in the remnants of Tenino's turn of the century sandstone quarry and is over 100 feet deep and fed by a 40-foot waterfall which swimmers are able to swim up to and shower. If you are looking for a fun filled weekend, come to Tenino to cool off and enjoy world class music.