Schoooooool's out. For. Summer! 
Did you sing along in your head to the classic Alice Cooper tune? I sang it when I was a kid and somehow, my kids still sing it today when that glorious final day arrives. The absence of packing lunches, carpool and schedules is bliss this week. I'm in heaven. But, inevitably, my cherubs will need more than unstructured days in the backyard to keep them happy and keep me sane.
While summer camps are sprinkled into our schedules, we have long weeks of free time, too. What's better than filling them with free (or wicked cheap) activities? Not much says this thrifty mama. And, if those activities results in my kids being quiet for about two hours? Bonus. Plus – popcorn. Am I right?
I'm talking about movies, people. Screen time is defined, regulate and managed (mostly) in our household, but when we go out to the movies, I count it as a family activity, not "official" screen time. Maybe I'm bending the rules a bit too far, but I adore going to the movies and love to share the experience with my kids. And this summer, we have mapped out a plan to catch our favorite flicks in the theater as well as a few outdoor movies on the lawn, perfect for hot, summer nights.
Regal Cinema's $1 Summer Movie Express

 
If you crave a traditional theater experience, take your kids to the Regal Cinema's $1 Summer Movie Express. Two different movies show on both Tuesday and Wednesday all summer long. And yes, you read that correctly – for just $1.
Movies start at 10:00 a.m. with two different shows offered. Week one kicks off with Kung Fu Panda 3 and Ice Age Collision Course on June 27 and 28. Movies are all PG or G and include popular, recent hits your kids will love including the Lego Batman Movie, Spongebob, Trolls and some lesser known films such as Kubo and the Two Strings.
No matter which show you choose, it's always $1 leaving plenty of spare cash for popcorn. Because popcorn (butter in the middle and on top, please) always tastes best at 10:00 a.m. Everyone knows that.
OFS Kids Club Free Saturday Movies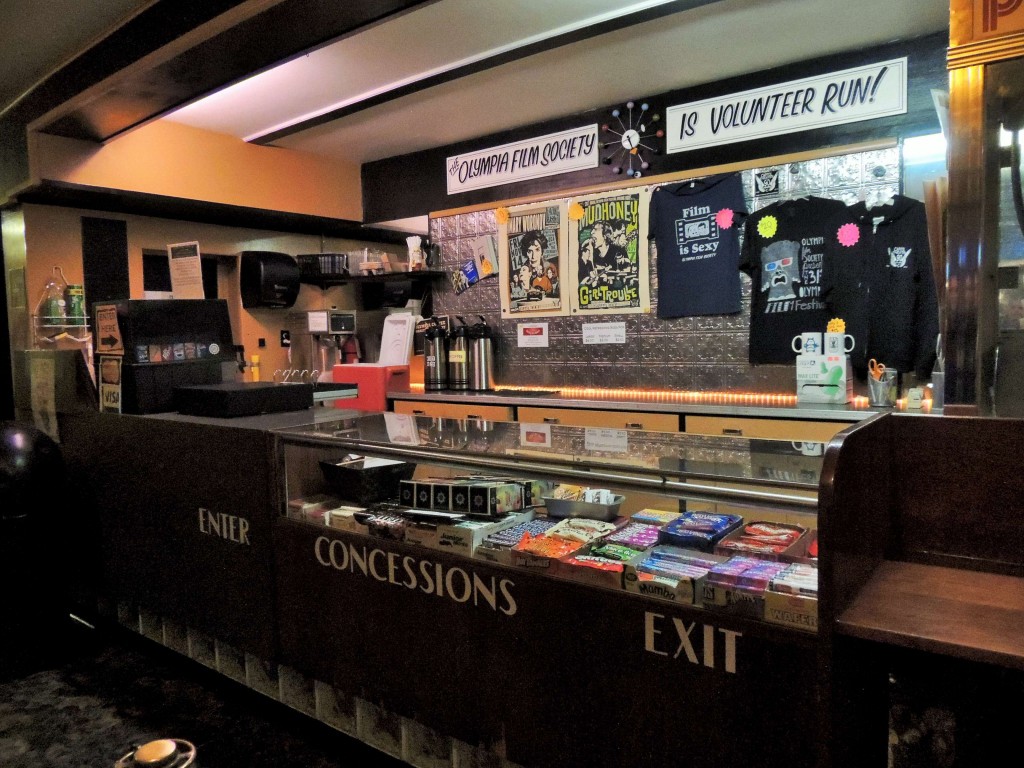 Each Saturday in July and August (excluding July 8) the Olympia Film Society, sponsored by the Olympia Farmer's Market, offers a free (to kids 12 and under) movie at 11:00 a.m. at the historic Capitol Theater in downtown Olympia. For July, it's a show from my childhood, An American Tail. This classic story of Fievel Mousekewitz and his family of Russian-Jewish mice who escape from their homeland in the late 1800s, boarding a boat headed toward America.
In August, families will be treated to The Sandlot. This classic 50s tale of neighborhood kids playing baseball in a vacant lot under the menacing threat of "The Beast", a mysterious and ferocious dog lurking in behind the junkyard gates. Seriously. You must see this with your kids. On the big screen. It's a classic.
Outdoor Movies Under the Stars
Despite our fancy big screen TVs and endless access to streaming media, there is still something quintessentially "summer" about an outdoor movie. And, while you can still take a trip to the classic drive-in theater in Shelton, Skyline Drive-In Theater, there are cheap and free outdoor movie options all over Thurston County this summer.
Screen on the Green – The City of Tumwater again hosts movies on the lawns of the Tumwater Valley Golf Course sponsored by Toyota of Olympia. Each Friday night in August, bring your friends, family, blankets and picnic dinner. Gates open at 7:30 and the movie shows at dusk. The movie line up includes the Lego Batman Movie, Trolls, Sing and Rogue One.
West Central Park Free Summer Movies – On the corner of Harrison and Division in West Olympia, a community gem has grown. The West Central Park is home to the West Olympia Farmer's Market, several food trucks and a summer movie series on Monday nights. Shows start at dusk each Monday in July and August. Titles include family friendly and more adult features, so check the full listings here. 
Lacey in Tune Movies at Dusk – The City of Lacey's "In Tune" series includes a wide variety of concerts, shows and movies all summer long in Huntamer Park. The summer movies are shown at dusk following a terrific summer concert. All events are free. Movies run Saturday nights July 15, 22, 29 and August 5 with family-focused shows including Zootopia and School of Rock.