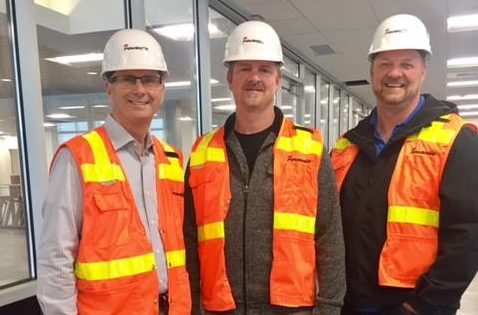 Driving up to the new Toyota of Olympia location – opening June 1 – feels like the entrance to Disneyland. It's that big. Situated on 22 acres at 6969 Tyee Drive in Tumwater, the new building is close to 94,000 square feet, almost double the size of their current building. The dealership's staff is excited about the move which is driven by their consistent growth and need for more space to help serve their customers the best way they can.
"We've just outgrown this current location," says Carol Peebles, Customer Relations Manager and Executive Assistant to General Manager/Owners. If you have visited Toyota of Olympia's current location at 2225 Carriage Drive SW in Olympia, which is only five acres, you are probably not surprised to hear this. It can be hard for customers to find a parking spot, even with staff parking offsite. "The move will not only be more convenient to customers, but our staff as well, who sometimes have to park a mile away," she adds.
The current location also didn't allow enough space for their large inventory of new and used cars, so they ended up with vehicles spread out on three additional lots. This, of course, was inconvenient for both customers and staff.
"If someone wants a certain car, we might have to go look for it on up to three different lots," explains Joe McCorkle, general manager for Toyota of Olympia. "So this meant our customers were having to wait while a salesperson went to fetch the car and that's not okay with us. We want the customers to get the car they want, quickly."
All About Service 
In just over 3 years, the dealership has grown from selling 1,500 cars a year to over 4,000 a year, making it the sixth largest dealership in a five state region. What's driving the growth is the operating philosophy that the entire team at Toyota of Olympia embraces, "hiring great people, taking care of great people and delivering a world-class level of service and an experience that is different and unique than anything else in the automobile industry," says McCorkle.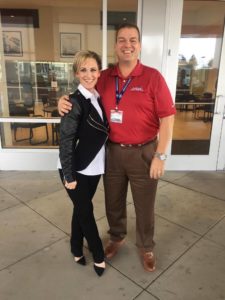 Extensive training is in place to ensure every team member can perform their role to the best of their ability. And this shows in the way they do business. Their philosophy means they look out for their customer – making sure they don't miss any deals, such as rebates, with the end result of making sure they sell you the car for less than anyone else could.
But of course the price of the car is just one piece of the puzzle. We all know what car buying is like – most of us would rather have a root canal than go to a car dealership. The team at Toyota of Olympia feels the same way and is passionate about changing the the way people see car buying. As owner Dustin Rotter says, "We want to put the fun back in buying a car."
And they do.
Recently, a customer came to their lot and spied a trade-in that was bound for the auction. The customer wanted the car, even though they told her it was headed to auction and not something they would normally sell. But she still wanted it and they sold it to her. Before she left she asked them, "If the transmission goes out in two weeks what are you going to do?" The response from Toyota of Olympia was simple, "We'll replace it." Well, she came back almost two weeks later and told the team, "Guess what, you get to do what you said you would." And they did. They gave her a loaner car and replaced the transmission, no charge.
Their motto is, "Always do the right thing and always do what you say you will." McCorkle gives his team the freedom and autonomy to do whatever they believe is necessary to please the customer and have fun.
And the entire team really does embody the dealership's philosophy. From driving as far as Aberdeen and Seattle for pick-ups or drop-offs, to making sure customers have all the information they need to be an informed buyer – even if the person doesn't buy a car from them. Toyota of Olympia's first priority truly is the people that contact them online, over the phone or walk through their doors.
They know they are succeeding by the feedback they get. Shaena Langley, general sales manager says customers come in, call or even text to tell them how happy they are with their car and the service they received. One customer even brought in homemade apple cobbler as a thank you. Another gave the salesmen who helped them personalized glass mugs with the Toyota logo.
So while their philosophy might be driving their growth, it's their customers that are driving their move.
The new facility was built with comfort and convenience for the customer as top priority. Customers can expect the same world-class service in a facility that will be even more accommodating, including things never before seen at a car dealership. Stay tuned for more details and a sneak peek inside the new facility in a "virtual tour" article coming soon.
The new Tumwater location will offer new and used cars, service and parts. The current location on 2225 Carriage SW in Olympia will become a used car supercenter featuring a full inventory of used cars (various makes/models) and certified pre-owned Toyotas.
For more information, visit the Toyota of Olympia website or call 360-539-3939.
Sponsored