When shopping for clothes in Olympia, there are a number of places one can look. One of the most unique locations is Psychic Sister, nestled between Radiance and Little General Food Shop. Psychic Sister has been selling vintage and used clothing, local products and offering psychic readings to the community since 2012.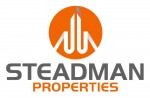 In starting the business, owner Dreamy Sea combined her love for unique clothing, local community, psychic readings, and female empowerment to create Psychic Sister. Psychic Sister's mission encapsulates the combined passions of the owner. "Psychic Sister makes every effort to provide a positive and healing retail experience. We are here to provide you with an expert eye as you explore over one hundred years of fashion. We honor the stories attached to these beloved garments by caring for each vintage item, often rescuing it from the waste stream through expert mending and restoration. We do our utmost to create 'Fashion Miracles' as you find a perfect fit. Be it an item of clothing, an accessory, an alteration, or piece of psychic information, we want you to feel seen and celebrated exactly as you are in our sacred mirror." Psychic Sisters upholds their mission statement by making the amount of care they put into their clothing and customers apparent as soon as you walk through the door.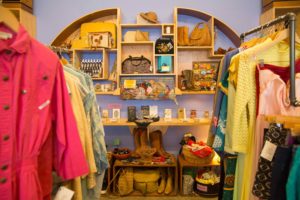 The clothes that are sold at Psychic Sister are all special and have been treated with care and love. As the owner, Dreamy Sea feels the clothes all have special stories to them, some of them being over 100 years old. The clothes have been on dates, experienced history and have been a special part of numerous people's lives. Browsing through racks of clothing, a variety of unique textures, fabrics, and patterns stand out. It is apparent that the hand-picked garments Psychic Sister sells are truly one of a kind. Psychic Sister also offers a wide variety of sizing, so customers of all shapes and sizes can find articles of clothing that fit well and make them feel beautiful.
Psychic Sister is committed to treating each garment that comes in with the amount of respect that it deserves. They mend and alter when needed to make sure that the clothes are presented at their best. This does more than just maintain the quality of the clothes. By upcycling and selling used clothing, Psychic Sister does their part to help eliminate unneeded waste. "Fast fashion" is the concept of corporations selling high amounts of inexpensive, low quality clothing, which quickly wears down and needs to be replaced.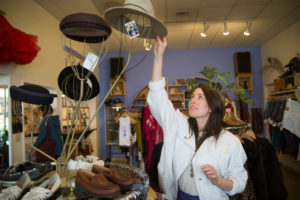 Americans throw away 14 million tons of clothing a year, according to Newsweek. Psychic Sister's model of providing high-quality, durable clothing that is made to last helps to eliminate this need for excessive clothing waste that is created by fast fashion. "I like shopping at Psychic Sister because their clothes aren't just run-of-the-mill items. I can find things that I really like and will keep for a long time," says Celestine Ames, an Olympia resident.
Psychic Sister buys clothing on Tuesdays when the community is invited to bring in their items that they are ready to pass on to a new owner. This method of buying from and selling to the community helps keep the local economy strong, along with encouraging a sense of togetherness. While Psychic Sister does not have specific rules for the clothing they accept, they need to be clean, well-kept items and the buyers give preference to natural fibers, such as wool, cotton, and silk. While they do appreciate clothing that is over 20 years old, they ask for all old clothing to be free of mold or smoke and like to buy shoes that are newer. The eclectic, unique style of clothing that Psychic Sister prefers can be seen when browsing the shop.
Psychic Sister strives to create an inclusive, safe space that honors the clothes and the people. They believe in helping customers find clothing that empowers them to feel good about themselves and helps them express themselves well. Beyond just putting extra care and love into their clothing, the employees at Psychic Sister are excited to connect people with the clothing that feels "right" to them. As employee Lindsay Schief says, "I love helping people find their soul ensemble!"
If you're feeling inclined to experience a psychic reading, Psychic Sister offers a range of different types of readings including tarot cards, palm readings and astrology. A variety of psychics offer readings at Psychic Sister, so you're sure to be able to find a style that suits you. Maybe you're in need of some guidance on an endeavor,or a glimpse into your future. Who knows – maybe they will guide you to the perfect dress for an upcoming event.
Psychic Sister is the place to go for high-quality secondhand clothing that will help you make your true self shine. You can see more of the clothing and experiences offered at Psychic Sister on their Instagram, Facebook or website. Visit in person at 109 SE 5th Avenue, or call at 360-943-9595.