The spotlight is on the kids at the Tenino High School Band concert. Standing slightly in shadow, Director Andrew Bowerly signals the Symphonic Band to tune. He pinpoints a stray clarinet who nervously adjusts her mouthpiece. Satisfied, Mr. Bowerly steps up to the podium and suddenly the band sits up a little straighter. He raises his baton and instruments are poised in well-rehearsed unison.

I have seen this all before and continue to be impressed with the level of training and focus that goes into moments like this. As a parent of a band student in the Tenino School District, I have enjoyed watching my child develop from a disorganized, yet eager, novice sixth-grade-band kid into a passionate and committed senior musician under the guidance of Andrew Bowerly.
Creating a Band Director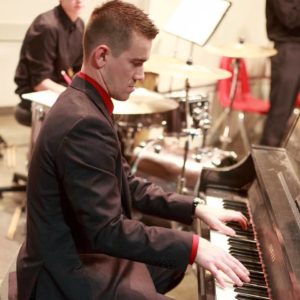 Creating a positive outlook on music and helping kids reach their potential is Bowerly's aim. For him, it started a very long time ago, before he can even remember.
"My father was a band director," says Bowerly. "When I was not old enough to do anything, my dad would set me on a drum set at football games and I would hit stuff during the third-quarter breaks when all the drummers were gone."
It is not surprising that Bowerly took such a keen interest in music. Maybe it was in his blood or maybe he just admired his father, but one thing Bowerly did know is that he wanted to play saxophone just like his dad.
"He was a performing saxophonist in addition to being a band director, so I got to go around with his jazz band."
For Bowerly it was not always easy being the band director's kid.
"If you aren't good, then what is wrong with you?" explains Bowerly. "I made it into the top jazz band when my dad was the band director. I was the only sixth grader in the group, and it looked like my dad was showing favoritism, but I actually practiced sax really hard so that I could play the audition perfectly and I wasn't afraid to improvise."
The Bowerly family moved around quite a bit and sometimes his dad was his band director and sometimes he was not, but Bowerly was always willing do whatever was needed to make the band successful. In eighth grade he played oboe and when the band needed a bass clarinet he played that, too. Then, he was asked to play French horn. Once, when a contest was coming up and the band did not have a tuba player, Bowerly learned tuba in a week and a half. And it turned out the judge was a tuba player.
"It's when I started to play everything that I thought maybe I could be a music teacher," says Bowerly. While attending the University of Washington as a Music Major he already knew what he wanted to do. "I wrote it above my desk in my room; 'I want to be a band director.'"
Small Town, Big Responsibility
All of this led Bowerly to the small town of Tenino and a position as the director for both the middle and high school bands. Bowerly is passionate about what it takes to create a successful band in a small town.
"You do what you have to do to make it work. The kids from a smaller school have more responsibility. Everyone knows everyone and they support each other. You may be the only alto saxophone player or the only trumpet player and if you don't show up then that creates a hole in the band. If you have a first part or a second part, and your parts harmonize or work together, then you are equally important. It's not like a big school where there are four other saxophones. It teaches kids to always show up because if you don't, then that part is missing."
There is camaraderie in a small school band since most of the students have grown up in the program together. Every time they perform out in the community they are giving back. "When they play at Parkside Elementary for the kids, I remind them that those kids are the future them," says Bowerly.
Get out there and Participate
Bowerly is a busy man. In addition to having a young family and extracurricular activities, he also directs four classroom bands plus Jazz Band and Sound Train Marching Band, all of which perform at games, concerts, competitions and events throughout the year. Each fall, Tenino hosts its own Marching Band Festival and the fourth Wednesday of April is Jazz Night. Jazz Night is a Band Booster fundraiser that helps offset the costs for travel expenses throughout the year, but it also features jazz bands from other local high schools.
Bowerly is often asked, how do you do it all? He says it really comes down to the "get out there and participate" philosophy that he tries to instill in his students.
"Well, I could either be involved in all of these things," he says, "or I could be sitting at home and doing nothing or playing video games. Why live your life sitting down? Why not get up and make yourself better? There is always a new instrument to learn or a web site to design or there's some program or master class online that will open up your mind."
Inspiring the Next Generation
By the time students are in high school, they have figured out why band is great. It is the early years in band when it is a challenge to inspire students.
"We can preach how it makes you smart and how it aids in brain development. How if you want to make something better you add music to it. I can give you a hundred-page document about all the things that music teaches you, but the kids don't care; they do it because it's fun. It's realizing how awesome music can make your life. They aren't all going to be music teachers or musicians, but there are opportunities if you keep with this.  With music you have a skill that not everyone has. It's an attractive asset. And if the kids get that, and they get that experience and they are having a good time, then you know you are doing something right." 
Bowerly's passion is contagious and he's eager to share that passion with anyone who might listen, including his students. That passion has been passed along to the Tenino musicians he inspires. And, as his students might say, "Mr. Bowerly…stop talking. Can we play now?"
To see Bowerly in action, join the audience at the Tenino High School Band Concert on May 24, 2017 at 7 p.m.